Market watch: Trending rent costs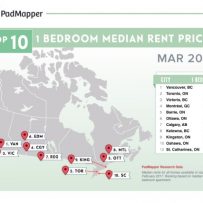 A recent report sheds light on which markets have the fastest growing median rent, as well as those with declining rents.
Investors looking for their next cash-flowing property may want to target three markets while avoiding three others, according to the latest rent report from padmapper.com, a rental listings website.
Markets with upward-trending rents
Kingston, Ontario, saw its median rent for a one bedroom unit jump 5.3% month-over-month to $990. Two bedroom homes, meanwhile, saw the median rent increase 2.6% to $1,180.
Halifax, Nova Scotia also reported median rent hikes. A one bedroom unit jumped 4.7% to $900 per month in rent, while a two bedroom unit now costs a $1,140 (+3.6%). 
Finally, Kitchener Ontario finds itself a costlier place to rent amid the tech boom in nearby Waterloo. Rent increased 4.4% to $940 for a one bedroom and 1.7% for a two bedroom, which now cost an median of $1,170.
Downward trending markets
Markets investors may avoid – for now at least – include Ottawa, which saw its median one bedroom rent decrease by 2.8% to $1,050. Two bedroom apartments experienced no change in median price, costing an average of $1,300.
Calgary, meanwhile, saw its one bedroom homes dip by 3.8% to $1,100; two bedrooms now cost around $1,270 (-1.6%).
Finally, Oshawa Ontario's one bedroom units fell 1.6% to $960.
"Similar to last month, Canada continues to see mixed price trends across its cities," Padmapper said in its report. "For one bedroom median rent, 13 cities have growing prices, 8 have decreasing prices, and 4 have no change."
See below for a breakdown of the costliest markets, and how they each performed month-over-month.