Map: Apartment rental costs across Toronto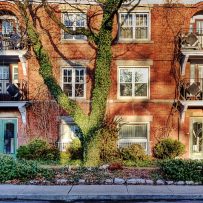 Story by: Monika Warzecha | BuzzBuzzHome
Rents for GTA apartments increased between the fall of 2014 and 2013, but the pace was slower than the previous year. For the Toronto rental market, which consists of purpose-built, private apartments home to three units or more, the CMHC calculated the average fixed-sample rent for a two-bedroom rental – the industry benchmark.
The result? Rents rose 2.7 between October 2014, down from the three per cent increase seen the year before.
The vacancy rate, 1.6 per cent, remained unchanged from last year.
Rents can vary greatly by neighbourhood, which is why we put together the interactive map below, showing the different averages for a bachelor, one-bedroom, two-bedroom and three-bedroom apartment across Toronto (asterisks indicate not enough information was available). CHECK OUT THE INTERACTIVE MAP HERE.
Which neighbourhoods saw the biggest price increases? Instead of studying year-over-year comparisons of the average rent, the CMHC excludes new apartments as they tend to have higher prices and skew the average. Looking only at the rental costs for apartments that existed in both October 2013 and October 2014, rentals in York saw the biggest  price increase at 4.3 per cent. It was followed by Toronto (West) at 3.1 per cent and Etobicoke (Central) at 3 per cent.
However, more and more condos are being rented out to tenants. The amount of new purpose-built apartments coming on the market has all but flatlined, but Toronto's well-documented condo boom is picking up the slack. Out of the GTA's complete condo stock, it's believed 28.9 per cent of units were rented out in 2014, up from 25.7 per cent the previous year. That number rises the closer you get to the core. In Toronto Centre (see map below for borders), the percentage increases to 38.4 in 2014, up from 33.9 per cent in 2013.
Given the pace of new condos coming on the market in Toronto (by our count, 20,017 are scheduled to be completed this year), it's not too surprising that the fixed-sample average for condo apartment rent declined by 1.5 per cent in October 2014 compared to the same time 2013.
Still, conditions remain tight with the condo rental vacancy rate sitting at just 1.3 per cent, down from 1.8 per cent the year before, and rents for condos in the ever-popular central portion of the city reaching an average of $2,285 for a two-bedroom suite.
Here's what you can expect to pay to rent a condo in the different regions of the city: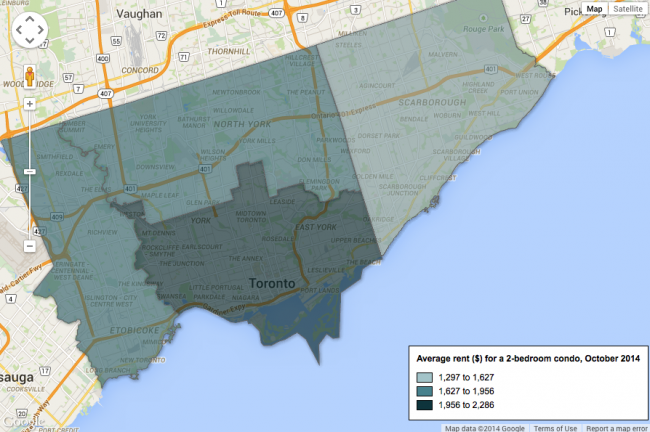 Want to see how the condo rental market stacks up against purpose-built apartments? Check out our region-by-region study here.