Managing Perception with Public Relations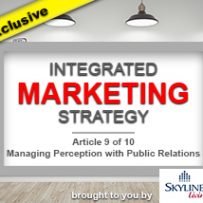 Story by: Sarah Rodrigues | Skyline Living
Public relations (PR) is simply a way of overseeing the flow of information between a company and the public. Unfortunately, PR has a bad reputation as "the thing companies do when they've screwed up." Companies tend to think about PR reactively when something happens, rather than incorporating it proactively into their day-to-day operations.
For small and medium property management companies, PR mostly functions as a way to get your company name into the minds of prospective renters. This way, when they see your ads and signage, they recognize your brand and feel positively connected with it in some way.
Emergencies
The main reason smaller companies start thinking about PR is when they have an emergency. In property management this could mean a building fire, a serious crime on-site, protests or legal actions, or a health issue. All staff should know, in the event of an emergency, who they can direct any inquiries to. Someone in the company should be equipped to liaise with the media or other stakeholders, and answer any questions. Your audience should hear your side of the story and what you are doing to mitigate the crisis.
Social Media
I haven't talked much in this series on marketing about social media. Property management companies in Canada are gradually moving into social media, but it is still not widely in use. You will have to analyze if social media is right for your business based on your own business objectives.
If you do have social media, remember that this is not just a channel for you to broadcast available units. You should use it to engage with your audience. Publish or share interesting stories and useful information, ask questions, and always respond to messages.
Online Reviews
Online reviews, like social media, are gaining popularity in the property management industry in Canada, though they are much more popular in the United States.
You can choose whether or not to allow reviews on your website or Facebook page, but you can't choose what's posted elsewhere. If you find a negative review, you should respond to it and then try to move the conversation off the internet by contacting the poster directly.
You may prefer not to allow or acknowledge negative reviews, but responding in a courteous, helpful way can actually encourage reviewers to update or delete their reviews, and improve other viewers' perception of your company.
Community Service
One way to generate positive associations with your company is through community service. For example, among other things, every year Skyline Living encourages residents and staff to participate in the FRPO Spring HOPE Food Drive. If you are making a significant contribution to a community initiative, you can even send out a press release to get some positive media attention.
You can also sponsor community initiatives, like a sports team or a community event, to get your name out. If you're going to be spending money, make sure the target audience for the community initiative matches the kind of renters you would like. For example, sponsoring a college event if you want students to rent from you makes sense.
While community service should be done for its own sake, it does not contradict the contribution to publicize your involvement. In fact, including information on your website, in social media updates, and in press releases can encourage others to get involved.
Awards
Applying for industry awards is a time-consuming process, but the larger your portfolio is, the more important it becomes. Awards, when displayed on your website, building walls, and signage, give your property credibility, instilling trust in prospective renters who see them. Like positive online reviews, prospects view awards as an external recommendation for your company.
For example, Skyline generally wins several FRPO M.A.C. awards each year. These awards plaques are displayed proudly in our buildings to show prospective tenants that we have been officially recognized for our efforts, particularly in community service and environmental excellence.
Conclusion
Public relations often gets overlooked, particularly by small companies, until there's a crisis. Thinking about PR proactively, even in a small way, will help prospective tenants, employees, and investors build a promising relationship with your company even before they are looking to do business with you.
Remember, it is inevitable that people are going to talk about you. An active public relations campaign can help control what is being said.
About the author: Sarah Rodrigues is the Marketing Coordinator for Skyline Living, a division of the Skyline Group of Companies, which operates 142 apartment communities in 46 cities across Ontario, Quebec, Alberta, and British Columbia. She has worked in communications, project management, advertising, and marketing in a number of industries. Feel free to connect with her on LinkedIn.