MAKE SURE YOUR PROPERTY IS DOING EVERYTHING TO MEET RESIDENTS' LAUNDRY NEEDS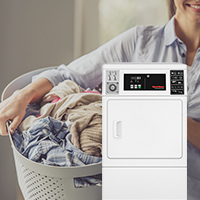 No doubt that COVID-19 has us all more than a bit on edge. Community laundry facilities stand on the front lines, not only helping to keep the spread of the virus in check, but also serving as centers, where residents can get information. Just as you would utilize signage, your website and social media to communicate with residents, property managers should leverage the same mediums to distribute information. Offering messaging in multiple languages, obviously including French in specific areas of Canada will also help for non-English speakers.
"Your property's laundry room is more important than ever during the current pandemic," said Ross Van Horne, general manager of multi-housing sales for Alliance Laundry Systems, the world leader in commercial laundry equipment. "Residents that may have been going outside to laundromats, may now be staying on-site to limit exposure. This presents an opportunity to show them how committed to their safety you are. So put your best foot forward in terms of cleanliness, upkeep and messaging."
Messages to communicate include:
The laundry room is open and hours. Obviously, you want residents to know the laundry room is open and what the hours are.
What you are doing to respond to the crisis and put them at ease the laundry is keeping them safe with extra cleaning, etc. The more detailed the better. Remember, vended laundries are on the front lines and have staff working hard to keep facilities clean – this is your competition. What are you doing to bolster residents' confidence that their on-site laundry is getting the same attention?
What they can do while visiting the laundry
Offer additional laundry tips
"Don't forget, some residents may be looking for a higher level of clean, offer them tips on what cycles deliver the best hygienic results," Van Horne said, adding that getting specific on how to operate the controls is valuable information.
Tips for interacting with the community laundry should include the basics as we know them at present:
Keep a distance of six feet from others
Avoid waiting in the laundry room for loads to complete; set a timer on your phone and return to your apartment until the cycle is completed
Wash hands often or use sanitizer as a precaution after touching equipment, doors, etc. or use gloves (having these items available in the laundry room shows your commitment to residents' safety).
Cough or sneeze into your elbow
Try to refrain from touching your face.
Additional laundry tips:
Heat and hot water are your friends. Where possible, wash loads with hot water and use dryers (allow the dryer to complete its cycle)
Avoid shaking dirty laundry (it can spread germs)
Clean hampers, baskets, bags, carts…anything coming in contact with dirty linens
Wash hand towels and wash rags often
Do laundry…the more urgency and emphasis we put on keeping things clean the better.
Your residents want peace of mind now more than ever that their on-site laundry facility is not just delivering quality clean results, but also is safe and well maintained. Seize this crisis as an opportunity to communicate with residents and show them your commitment to safety.
That commitment comes with increased cleaning of facilities.
"Put yourself in the shoes of a resident using your laundry room for the first time," Van Horne said. "Is there junk laying around? Even something as simple as a dryer sheet on the floor or an overflowing garbage can send the wrong message."
Obviously, operating equipment is non-negotiable. Make sure any equipment issues are tackled expeditiously and maintenance tasks stayed on top of. It also may be time to look at an equipment upgrade. Would larger multi-load washer-extractors with more cycle flexibility help residents complete their task quicker? Something as simple as a suggestion box may be an excellent addition to gauge where you could make improvements to make the laundry room more user friendly.
"Remember, laundry rooms that are viewed as an amenity are excellent tools to attract and retain residents," Van Horne said. "Make sure that during this time of pandemic that you are doing everything possible to tap that amenity value."
To learn more about Huebsch products for multi-housing properties, click here.
Story by: Huebsch