Lower your energy bills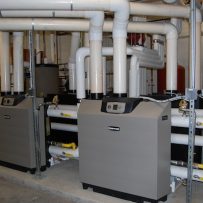 Upgrading to more energy-efficient natural gas equipment is easy and cost effective. Add in incentive programs, and your company can see an accelerated payback on your investment.
Here's an example of how Ontario multi-unit residential property managers are able to earn a return on investment and reduce their natural gas bill through incentive programs.
The Situation
A property management company in Ontario wanted to increase the energy efficiency of three multi-unit residential buildings. Having tenants of these buildings, who all use energy differently, posed a challenge to the management company to find a way to increase their buildings' overall efficiency regardless of how residents used energy.
The management company also found themselves in a position where they would temporarily replace or repair older equipment and wanted to find a better way to proceed in the future.
The Solution
A Union Gas account manager worked with the property manager to identify how to easily increase the efficiency of their equipment while reducing operational costs. As a result, the account manager recommended upgrading to new energy-efficient condensing boilers and helped connect them to qualified service providers to have them installed.
The installed condensing boilers are up to 98% efficient, vastly improving energy efficiency and reducing operating costs. One major advantage they offer for increased energy savings is the ability to capture heat from flue gasses, allowing the boiler to conserve fuel.
This upgrade not only reduced natural gas consumption, but also allowed the property management to stop replacing old burners one-by-one, a costly practice in terms of time and money.
 Savings and Results
The total cost of upgrades was $98,000 for 16 condensing boilers. Natural gas use was reduced by 83,000 m3/year, for annual savings of $15,500. With total cash incentives of $32,000 from Union Gas, this accelerated the payback on the investment from 6 years down to 4 years.
 Submitted by Union Gas