Low-Rise Infill Proposed Next to Rental Tower on Isabella Street
Intensification of Tower-in-the-Park style apartment sites is a growing trend in the Toronto development scene, with property owners scrambling to maximize the value of land by infilling underbuilt space with new density. The latest such plan comes from Cromwell Property Management, who seek rezoning to permit a relatively modest four-storey IBI Group-designed rental building at 33 Isabella Street. 
Located on the south side of Isabella Street between Yonge and Church streets, the plan has been proposed for a section of land to the west of an existing 27-storey apartment building. Rising 25.15 metres, the new building would act as a visual bridge between a heritage house to the west an the existing apartment building to the east. Taking on a house-form, it references the massing of the adjacent heritage-listed 1885-built home, while its material palette references the existing apartment tower.
The building's ground floor would house a new 4,175 ft2 office space, a residential lobby, and service areas. 39 square metres of indoor amenity space is also proposed on the ground floor, while an 868 square metre landscaped area would serve as outdoor amenity space, combining with existing landscaped space for a total of 2,625 square metres.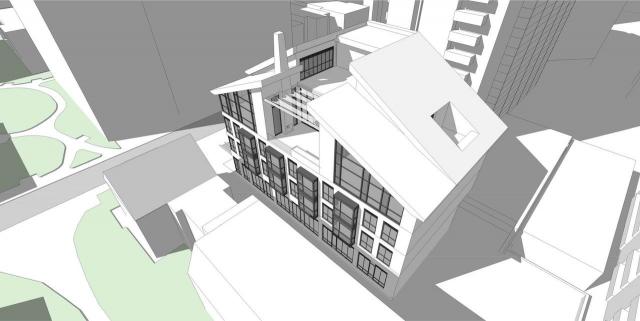 A total of 15 proposed residential units would all be located on levels two through four. Levels two and three would each contain a single studio unit, 3 one-bedroom units, 1 two-bedroom unit, and 2 three-bedroom rental units. The fourth and final level would house a massive 5,500 ft2 penthouse unit offering three separate outdoor terraces. All residential levels are proposed with unusually high 11 foot ceiling heights.