Loonie could hit 76 cents U.S. by middle of next year: National Bank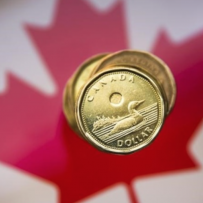 The loonie hit its highest level in two weeks on Monday, after crude prices rallied on the decision from Saudi Arabia and Russia to extend production cuts until next March – and it could rise to 76 cents U.S. by the middle of 2018, according to National Bank.
Low oil prices, concerns over Canada's housing market and trade tensions with the United States have put pressure on the loonie recently. But Krishen Rangasamy, a senior economist at National Bank, says there's reason to be optimistic about the Canadian dollar in the long term.
"Thanks to today's decision by Saudi Arabia and Russia to extend oil production cuts to next year, the loonie seems to have found some breathing room," Rangasamy wrote in a note to clients. "While we remain skeptical about the success of such bilateral deals to reduce the oil supply glut ─ increased production by the U.S., Canada and Iran among others will compensate ─ we welcome the temporary floor that the announcement has put under the loonie."
Rangasamy told BNN that when it comes to concerns over U.S. trade policy, he believes there won't be significant changes to the North American Free Trade Agreement and any "tweaks" should have minimal impact on the Canadian dollar.
"As for U.S. trade policy, it's clear to everyone that it's a major risk to Canada's economic prospects. But our base case scenario is that trade flows are not materially impacted," he said via email. "There may be tweaks to NAFTA but we are assuming the U.S. will not want to shoot itself in the foot (recall that they have a trade surplus with us and would not want to face retaliatory actions from Canada)."
He added that if risks from U.S. trade policy don't materialize, and the Canadian economy maintains its current pace, the Bank of Canada may tighten its monetary policy and speculative shorts on Canada could reverse, which could push the loonie up to 76 cents U.S. by the middle of next year.
Rangasamy did note the loonie could see renewed pressure if there's a sharp moderation in Canadian GDP growth. A relapse in oil prices and rate hikes from the U.S. Federal Reserve this year could also lead the central bank to maintain its dovish stance.