Loonie 'a flightless bird' amid looming rate decisions: Rosenberg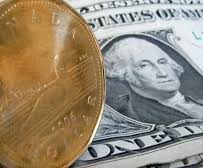 David Rosenberg wouldn't go so far as to call the loonie a Thanksgiving turkey, but he called the Canadian currency "a flightless bird" in the face of expected monetary policy moves.
"Whatever the Fed has to do, the Bank of Canada is going to lag way behind," the Gluskin Sheff + Associates chief economist and strategist told BNN Bloomberg on Canada's monetary policy future. "Those negative industry spreads are going to widen out and no matter what commodity prices do, the loonie is going to remain a flightless bird as far as the eye can see."
Rosenberg said the loonie is most likely to "hang around" the 77-U.S.-cent mark it has maintained this week. However, he said if he had to predict a five-cent move in either direction, a decline is the most likely scenario.
"I would see 72 before 82 [U.S. cents]," he said. "The fat part of [the probability] curve is towards weakness not strength."
Rosenberg added that September's jobs data – highlighted by an 80,000 jump in part-time workers, but tempered by sharply slowing wage growth – mean the Bank of Canada has less impetus to be aggressive with interest rates than its U.S. counterpart.
"It's very clear – when you look at the acceleration in wages in the U.S., where their jobless rates are, both on the surface and beneath the surface – that the Fed has a lot more work to do," Rosenberg said.
"I don't see the case for the Bank of Canada. Of course, they're going to raise rates on Oct. 24. That's in the cards. I just don't know how much more they'll have to do."
As far as relations between the two countries go, Rosenberg believes that putting the uncertainty of NAFTA renegotiations in the rearview window is a plus for the Canadian economy.
"We dodged a bullet," he said. "I don't think that this new trade deal is better than NAFTA, but it's certainly better for us than if Donald Trump had simply walked away, which is what he threatened to do."
"Getting the uncertainty out of the way could unleash some business investment growth in Canada which has been lagging."