Looking to condos for an affordable home? Think again, report suggests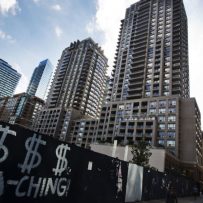 Scorching prices in red hot housing markets in Toronto and Vancouver are beginning to spread into the condo market, and surrounding areas, according to new numbers released today from Teranet-National Bank.
Home prices in Toronto surged about 10.6 per cent in May while Vancouver was "in a league of its own," and saw prices rise 21.7 per cent, according to the report. Those increases helped push the national average to an all-time high.
Canadians, who can't afford the million-dollar price tag of a single detached home in Toronto and Vancouver, could at least look to the condo market, or the suburbs. But the new report is casting doubt on that, as well.
Vancouver condo prices are up about 14 per cent over the past year – the fastest rate growth since May, 2010. Toronto condo prices are up 7.8 per cent over the same period – the fastest growth since Nov, 2011.
Prices are rising in the suburbs, as well. In Hamilton, home prices are up 14 per cent over the year while prices in Victoria are up nearly 11 per cent.
"The generalization of steep price growth to condos should feed concerns about affordability in these metropolitan areas and household indebtedness," National Bank Senior Economist Marc Pinsonneault said in the report.
High prices are limited mainly to the Toronto and Vancouver regions, according to the report. Prices in Ottawa are up just 0.4 per cent, while prices are flat in Winnipeg. Home prices in Calgary dipped 0.2 per cent and are down 1.7 per cent in Edmonton – communities hit hard by the collapse in energy prices.
The Teranet data comes just a day after the International Monetary Fund renewed warnings to Canadian policy-makers they may have to take action to cool Canada's hot housing markets.