London Ontario's Farhi sells 10 properties to True North Commercial REIT in $60M deal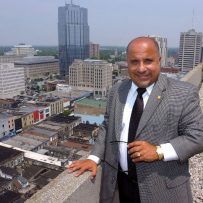 Story by: Norman DeBono, The London Free Press
London landlord Shmuel Farhi has shed some of his core-area holdings in a $60-million deal.
Farhi sold two central properties and another on Exeter Rd., in a deal with True North Commercial Real Estate Investment Trust that included 10 Ontario properties.
"It was a good opportunity," Farhi said. "They're looking within three years to have a billion dollars in assets. We got cash for assets."
Farhi also said he invested in True North in a move to broaden his business and give him more of a national focus.
True North isn't planning changes to the London sites, chief executive Daniel Drimmer said. They are 199 Dundas St., 534 Queens Ave. and 417 Exeter Rd.
"These are very strategic properties. We want to keep them the same for the long term," Drimmer said.
"We like London. It's a very stable market, and real estate likes stability."
Farhi will manage the properties for True North, Drimmer said, adding the London developer invested more than $5.5 million of sale proceeds back into the real estate trust. "It's a great marriage," Drimmer said.
Farhi will use revenue from the deal to pay down debt, but the sale may signal a new willingness to part with properties he once considered untouchable: Downtown London sites.
"We're open for anything and everything, and it is about time," he said.
True North owns more than 20 properties totalling 1.2 million sq. ft. in Ontario, Alberta, British Columbia and New Brunswick.
"They have good management, a solid team in place and concentrate on blue-chip assets across Canada," Farhi said of True North.
The other Ontario properties sold to True North are in Sarnia, Hamilton, Peterborough and Kirkland Lake.