MONTRÉAL: FIRST MAJOR RESIDENTIAL RENTAL PROJECT IN OVER A DECADE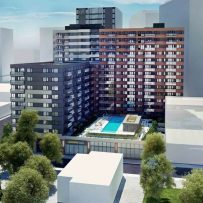 Partners Devimco, Fonds immobilier de solidarité FTQ and Cogir Management Corporation are pleased to announce the official launch of L'Hexagone, a unique residential development project in Montréal.
Nestled in the heart of historic Griffintown, the $66 million 15-storey building will offer 257 rental units and 28,000 sq. ft. of leasable commercial space. With construction already underway, the developer will be opening a rental office in the next few months and occupancy is slated for spring 2015.
"L'Hexagone is the only major residential development project currently in progress in Montréal's Sud-Ouest neighbourhood. We've been building in Griffintown since 2008 and this project is in keeping with our desire to develop a living environment that offers a diverse array of services and housing," said Serge Goulet, president and CEO of Devimco Immobilier.
"We firmly believe that L'Hexagone will meet a genuine need because Montréal's inventory of rental properties is quite old, creating demand for new, quality rental projects with a contemporary design. As a partner in several phases of this urban complex, we're especially pleased to be playing a role in the hundreds of jobs that will be created," added Normand Bélanger, president and chief executive officer of the Fonds immobilier de solidarité FTQ.
Neighbourhood life
Thanks to its unique location, L'Hexagone will offer tenants a tranquil setting, just steps away from the hustle and bustle of urban life. Located at the corner of Wellington and Murray Streets, on the doorstep of Old Montréal and Cité du Multimédia, and walking distance to the downtown core, the property is also close to the Lachine Canal-Peel Basin, a setting of peace and tranquility. In addition, L'Hexagone will offer easy access to major roads, public transit and BIXI self-service bike stations. A variety of neighbourhood services (supermarket, bank, drugstore, dry cleaner, hardware store) are also nearby, as are numerous trendy bars and restaurants.
Apartments can be reserved by registering online (www.hexagonelocation.ca).