Lessons for Ontario from Boca Raton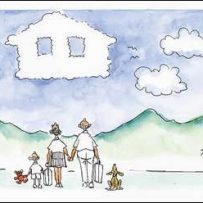 It's up to government to unlock the door to affordable housing 
I was fortunate to attend the recent National Multi-Housing Council's (NMHC) annual Apartment Strategies Conference in Boca Raton, Florida.  Fortunate, not just to get break from Toronto's minus-20 temperatures, but to also get a glimpse of the future for housing in Ontario.
One of the highlights was a presentation by NMHC President Doug Bibby, where he highlighted a barrage of major trends for rental housing in the U.S. Many of these trends may hit Ontario in the near future.
I won't describe them all, but one of his topics should certainly be noted by Ontario: The only type of new rental housing construction is high-end and high-priced. The reason is simple. The costs of building multi-unit housing is increasing. Rapidly. Very Rapidly.
Can new "affordable" housing even exist?
In Ontario, many often express a desire for more, new, "affordable housing".  The problem is, saying you want "affordable housing" is quickly becoming like saying you want a unicorn – it doesn't exist. It is very expensive to build new rental housing. The only way to build a new apartment building these days is to ensure that the price (the rents) reflects the high regulatory, land and construction costs.  And, those costs are going up significantly.
First is the obvious, such as the cost of land, the cost of construction labour, and the cost of equipment and materials, which are all driving up housing prices. It's hard to make housing affordable when these input costs are on verge of double-digit increases.
Barrier #1: The Byzantine Land Use Planning System
Remarkably, the biggest barrier to affordable housing is the government itself. To build an apartment building in Ontario is to embark on a long, costly and stressful process through the Byzantine land use planning system.
While many elected officials say they want more housing, they often publicly oppose specific developments, forcing developers to appeal housing applications to the Ontario Municipal Board (OMB). One developer revealed over $3.6 million in legal fees spent on a four month OMB case – just to build 473 new homes1 (that's $7,600 added to the price of each new home – just for legal fees!).
Development Charges Make Housing Less Affordable
Development charges by governments make it even less affordable. For a new condo apartment, the average government charge per apartment is approximately $64,000, or roughly 20% of the average price for a new condo2. For a new apartment building in Toronto, upfront development taxes are $15,265 for each new 2-bedroom unit ($3 million for a 200-unit building).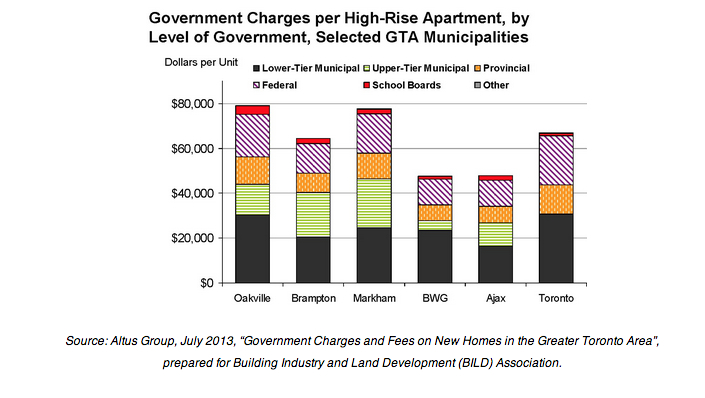 For new rental housing, most municipal governments also use provincial legislation to demand what are known as Section 37 payments from developers. In Toronto alone, the government has collected an incredible $136 million in cash benefits from developers between 2007 to 20113.
The lesson here from Mr. Bibby's presentation in sunny Florida is that building new rental housing makes a lot of sense.  The demand is there, renting is becoming more popular, and there's more than enough capital to finance new projects. But, as long as governments allow the runaway train of development charges and NIMBY-related legal costs to increase speed, it will be hard to price new housing affordably.

1. Toronto Star, February 10, 2008, "Developer's cost claims raise fears of legal chill"
2. Altus Group, July 23, 2013, "Government Charges and Fees on New Homes in the Greater Toronto Area", prepared for Building industry and Land Development Association.
3. Aaron A. Moore, 2013. "Trading Density for Benefits: Section 37 Agreements in Toronto". Institute of Municipal Finance and Governance, University of Toronto.

Story By: Mike Chopowick, VP of Government and Industry relations, FRPO

About FRPO
FRPO is the largest association in Ontario representing those who own, manage, build and finance residential rental properties.  Our membership includes a diverse group of owners and managers, from those with one small building or a single rental unit, up to the largest property management firms and institutional owners and managers.   The association also includes our colleagues and partners in industry, including service providers, suppliers, and industry consultants.  With more than 2200 members in every area of Ontario, and with over 350,000 homes, we represent the full spectrum of the industry in Ontario.