Large Building Energy & Water Reporting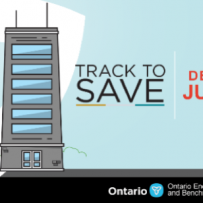 NOTICE OF REPORTING DEADLINE : Ontario Regulation 506/18, Reporting of Energy Consumption and Water Use, outlines what utilities and building owners must do to comply with Ontario's Large Building Energy and Water Reporting and Benchmarking (EWRB) initiative.
Under EWRB, buildings 100,000 square feet or larger are required to report their data to the provincial government by July 1, 2019. By 2020, when the EWRB initiative is fully phased in, buildings 50,000 square feet or larger will also be required to report annually.
Visit the Ministry's revised webpages at www.ontario.ca/energyreporting to see the types of buildings that are subject to the reporting requirements, and the data building owners will need to report
If you have further questions, please call the EWRB support line at 1-844-274-0689 or email EWRBSupport@ontario.ca
If you have any questions regarding this reporting requirement, please contact Ted Whitehead, FRPO's Director of Certification – twhitehead@frpo.org