Landlords Tackle Homelessness at Community Event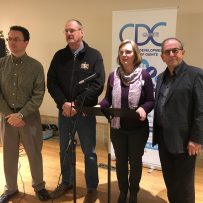 Belleville, December 19, 2018. Landlords, members of the public, local government officials and community stakeholders recently met to discuss ways to reduce homelessness in the Quinte Region. The December 17 event hosted by the Quinte Region Landlords Association was chaired by President Robert Gentile and the discussion led by guest speaker Ruth Ingersoll of the Community Development Council of Quinte. The main purpose of the event was to educate housing providers of alternatives to eviction by diverting at-risk tenants to local services and resources to help them through crisis. Hastings County's Policy and Planning Coordinator Emily Frauts assisted with the presentation outlining the various programs offered by the county.
In her opening remarks, Ingersoll described her experience witnessing poverty first hand during her over 30 years doing community work. The audience sat in stunned silence as they listened to her describe the harsh realities faced by many. "On our way home most of us are thinking about what choice of food we're going to put in the oven or BBQ for supper, what will be for dessert, or what sports game we're going to watch after. But for alot of people they are stressing over how are they are even going to feed their family, how they're going to stretch what food they have to feed everyone, and if the lights and heat will be on when they get home." Ingersoll explained it's these kinds of tough life choices – feed their family or pay the rent – that can lead to homelessness and all sorts of other issues for financially struggling individuals and families. "The average person has no idea what many people like this are going through. Life is a daily struggle for them and I am very encourged that we have landlords who want to understand this more and help."
Ingersoll shared her personal story of coming from a poor family of nine children. "We never went hungry but sacrifices had to be made so I can relate to many of the people we serve and it's what inspired me to get into community service work."
Attendees were educated on the full line up of support services and resources available to people going through times of need. They included special funding to help with rent payments, food and meal programs, children's resources, mental health and addictions counselling, transportation services, and many more. Ingersoll pointed out to the audience that the Quinte region has a lot of programs and services not available in every other area. "Sometimes social service workers in other parts of Ontario are amazed at all of what is offered here. One of the things we need to do better at is making sure local residents know about them" said Ingersoll.
Along with landlords and members of the public a number of key stakeholder groups and local government officials were in attendance. Hastings County Warden Rick Phillips and Belleville City Councillor Garnet Thompson were active participants in the discussion. Also attending were representatives from Loyalist College, the John Howard Society, and local realtors.
Hastings County Warden Rick Phillips said "Homelessness and housing are high priority issues for the County. I came here tonight to learn more about this and to see if we're doing everything that we can." Belleville councillor Garnet Thompson talked about the need for local government to be working cooperatively with landlords. "Government alone can never create enough affordable housing to solve the homelessness crisis. If this is going to be solved the solution is going to come through working with private landlords."
Loyalist College's Dan Brennan educated the attendees on the Elevate Plus program for which he is a Job Coach. The program prepares people for success in life and helps find them full time employment. "The program is effective – after a year, 80% of our clients are still working full time at the jobs we helped to place them in."
QRLA President Robert Gentile said he was encouraged by the attendance and enthusiastic discussion. At one point he said, a number of landlords openly brainstormed about how to get this vital information to their tenants without intruding on their privacy. "As landlords we are in a position of not only providing housing, but in detecting problems and crises with our tenants. With that knowledge we can direct them to the right resources so they can get through tough times and hopefully save them from eviction."
In her remarks to the audience Ingersoll said she was thrilled to have a group of local landlords willing to help those in need and be a part of the solution. "Thank you to Robert for reaching out and to all of you for caring and being willing to make an extra effort to help improve lives. " she said.