Landlords hold all the cards in the rental market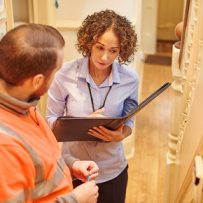 Toronto's low vacancy rate coupled with its rental supply shortage has resulted in bidding wars, and landlords are taking full advantage to squeeze every last penny out of their investments.
Potential tenants typically have to present landlords with financial statements, letters of employment, and references, but as many desperate Torontonians are finding out, that's no longer sufficient.
"Nowadays with such fierce competition, we're seeing a lot more added to the rental package that's being presented," said Right At Home Realty Broker Manu Singh. "And landlords are asking for it too—to see either financial statements or bank accounts, and further documentation ensuring they're in a good position. On the offer side, what we're seeing is larger deposits. Normally, it's first and last month's rent—that's the norm—but these days you're seeing people send in three to four months' rent. I've done one rental for six months paid up front. That's insane, but people are having to do that."
With the vacancy rate at about 1% in downtown Toronto, where Singh mainly works, he says that the properties he lists get scooped up in seven to 10 days— but not before the landlords weigh all their options.
"Of all the listings we've put up, and this goes back a few months, every single one has gotten multiple offers within a week," said Singh. "All of our properties are marketed to the best of their extent, because if a property is marketed professionally, shows well and is cleaned, you'll have multiple bidders."
He added that rental bidding wars have been going on for at least a couple of years, and that the units tenants have the easiest time renting are what Singh calls the "two-and-twos": Two bedrooms and two bathrooms.
"Believe it or not, these have been easier to rent on the tenant side," he said. "These units are where people can get roommates. And we're seeing roommates a lot. The units usually have split layout designs, so we see a lot of young professionals who are 25 and can't afford a one-bedroom."
Brian Chaput, a sales agent with Royal LePage Estate Realty, says selling a landlord on a tenant client is imperative, and that the current situation in the rental market reminds him of the recent bidding wars purchasers regularly engaged in.
"Last winter, there was lots of competition in the buying market," he said. "Every time I sat at table, it wasn't with one or two other people, it was 10 to 20 other people. It's not as severe as 10 or 20 people on the rental side, depending on the property, but sometimes you can see that. To be in competition for rentals is a fairly new situation."
With new mortgage rules implemented for the start of next year, Chaput believes many would-be buyers will be forced to become renters, and in the process put even more pressure on the rental market.
"Leasers still have a vested interest in their property, so it's important to sell your client to the leaser's agent and their client," said Chaput. "It's pretty competitive and getting more and more difficult for people to buy homes, and will be in New Year as well with new rules coming in, so show the leaser every positive your client has."