LandlordBC RentalHousing Task Force Recommendations Released.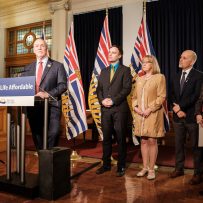 Today, December 12, 2018, Chair Spencer Chandra Herbert and his fellow task force members released their Rental Housing Task Force recommendations as they pertain to the Residential Tenancy Act. The Task Force completed their consideration of the various submission they received and research they conducted and put forth their recommendations to the Premier and Minister of Municipal Affairs and Housing today.
The recommendations are generally balanced and largely represent a modernizing of the Residential Tenancy Act versus dramatic change. In a discussion with the Task Force Chair prior to the public release of the document, LandlordBC was advised that theMinister Municipal Affairs and Housing will be considering the recommendations over the coming year and through continued monitoring and consultation will decide which recommendations are ultimately implemented and when. The absence of more specifics in regard to which recommendations will be accepted/implemented and the timing for such,does create a degree of uncertainty for our industry, especially for the development of new rental housing. LandlordBC will be reaching out to the Minister at the earliest possible date to seek clarification.
A few immediate highlights of the report and the most important recommendations/outcomes as we see them are as follows:
They stipulated that these recommended improvements to the Act are intended to better accommodate tenants during renovations and are intended to stop evictions for cosmetic changes to a unit, or even bigger renovations like windows, plumbing or electrical work.
During the engagement process, many renters called for improvements to the right of first refusal, specifically asking for tenants to be able to return to their units at the same or a similar rent after renovations have been completed.
The Task Force recommended that government monitor changes to the Residential Tenancy Act that have recently been made, and the changes recommended in this report, to determine whether they are successful at reducing renovictions before taking further action on the right of first refusal. Therefore, first right of refusal will be subject to the tenant moving to market rent as is currently stipulated in the Act.
If the changes to accommodate tenants during renovations are not implemented, or if they are not successful at reducing renovictions, it is recommended that regulations on the right of first refusal are revisited. Regulations on the right of first refusal could be strengthened to include further regulation, such as addressing rent increases following a tenant exercising their right to return to a rental after renovations.
Further there is a recommendation to investigate a method to ensurelandlords and tenants in possession of a monetary order would have simplermethods to enforce orders and collect on debts. This recommendation wasoutlined significantly in our written submission to the Task Force.
Story by: David Hutniak, CEO, LandlordBC