LANDLORD WEBCON RETURNS MAY 2015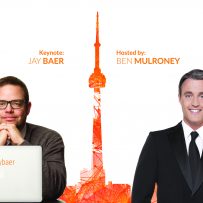 WEBCON 2015- Canada's Rental Marketing Conference is celebrating it's 5th anniversary! This year we're bringing you an amped up RHB Launch Pad, streamlined speaker sessions and a brand new awards celebration!
WEBCON's trend of featuring high profile speakers will continue in 2015.  This year's 10+ sessions will be centered around apartment marketing through the use of technology, led by experts from Google, Yelp, Rentlytics and more.
Data and content analysis have become driving forces behind strategized online marketing and have created a multitude of new and diverse opportunities within the industry.  WEBCON 2015 will focus on identifying and tapping into content and data driven decision making. The day will be headlined by keynote speaker Jay Baer, author of Youtility and Convince & Convert.

The conference is hosted by Landlord Web Solutions and will take place on May 14th at Pearson Convention Center.
1st ANNUAL WEBCON RMAs
WEBCON 2015 is proud to announce an exciting new addition to our lineup! On May 13th, the 1st Annual Rental Marketing Awards will celebrate outstanding marketing achievements within the industry. Celebrity host, Ben Mulroney will guide the evening, handing out 12 highly coveted awards. The RMAs offer a unique opportunity to connect with industry leaders prior to the conference and indulge in our work hard, play hard attitude!
To learn more about Landlord WEBCON 2015 and the RMAs, please visit www.landlordwebcon.ca.  For sponsorship details, please call Jason at 905-397-5088 ext 25. Conference and awards tickets are available now! For pricing information and purchase, please visit www.landlordwebcon.ca/registration.