Landlord Licensing Fees Result in Whopping Rent Increase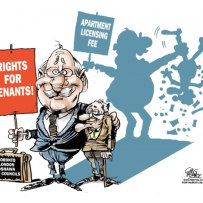 The City of Waterloo is by far the greediest of all municipalities when it comes to the charges levied under its Landlord Licensing By-law.  Waterloo's licensing fee and mandatory charges (the bulk of which go to its bureaucratic "cousin", the Electrical Safety Authority) amount to over $1,000 per townhouse unit and are imposed on a "per bedroom" basis (the more bedrooms the higher the fee).  The fees are imposed on "converted residential dwellings" but are also imposed on purpose built, properly zoned townhouse complexes which are fully compliant with all applicable building codes from the date of construction but they are a lucrative target for revenue hungry bureaucrats. 
 The Waterloo "tax grab" was recognized by the Landlord and Tenant Board in a landlord's application for an above guideline rent increase (AGI) based on the levy of the licensing fee as an extraordinary cost in "municipal taxes and charges".  The rent increase resulting from Waterloo's license fee levies was 6.0% plus the Guideline increase of 1.8%, for a total of 7.8% (on average about $70.00 per month increase in monthly rent!).  
Two tenants, funded by the Province of Ontario, appealed the Board's decision to the Divisional Court and we defended the Landlord's position seeking a dismissal of the appeal.  The Divisional Court dismissed the tenants' appeal and awarded the Landlord legal costs of $7500.00 (for a copy of the Court's ruling, go to the following link: Houston v. 530675 Ontario Limited
For the past few years the Landlord of this complex urged council not to impose its demonstrably unfair tax and warned of the onerous rent increase consequences for family based tenancies.  The City bureaucrats persuaded Members of Council to ignore those warnings and it is the tenants who must now pay for Staff's greed and Council's indifference.
As determined by the Landlord and Tenant Board, and affirmed by the Divisional Court, the licensing fees and mandatory charges levied by Waterloo are "municipal charges and taxes".   and the money goes straight into the coffers of the bureaucracy at City Hall and funds an easy "make work" project for the ESA…it does nothing for tenants who are already completely protected under the Residential Tenancies Act. No doubt the City will cast blame on the landlord for passing on this "tax"; however, it is the accepted practice (and certainly the practice of bureaucrats and politicians) to pass expenses incurred in the course of business or employment on to the ultimate consumer…and the City was aware from the outset that this would be the consequence of their money grab.
If you have any questions about this article or wish to discuss the contents, you may contact Joe Hoffer at 519-672-9330 or hoffer@cohenhighley.com.