Lakeview lands sold to developers for $275M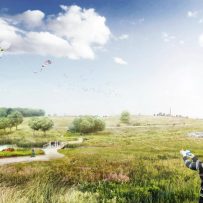 No details on when the 177-acre site on the Mississauga waterfront will become a mixed-use residential, commercial community.
The Lakeview lands in Mississauga have officially been sold to developers for $275 million in the latest step toward the transformation of the city's waterfront.
The 177-acre site, formerly a provincial coal-fired generating station, will be transformed into a sustainable, mixed-use residential community by Lakeview Community Partners, a consortium that includes Argo Development, TACC Construction, Branthaven Homes, Greenpark Group and CCI Development Group, according to a press release from provincial agency, Ontario Power Generation (OPG).
Sixty-seven acres of land will be remediated and transferred to the city of Mississauga as part of the deal.
Lakeview is expected to be the future home of 20,000 people and 8,000 jobs. Mississauga is planning a pedestrian- and transit-friendly community that will draw residents and tourists with waterside parks, wetland trails, boardwalks and canals lined with restaurants and boutiques. City plans call for cultural spaces, artists' housing and potentially a museum, near the water.
There are no details, however, for when the transformation will take place. That will largely be up to the developers once a land use plan goes before Mississauga city council in June, says the city.
"This is a complex site and will require a concerted effort and continued partnerships," said an email from a city spokesperson.
"It is anticipated that redevelopment will take a number of years to complete."
The community will be close to GO and the city's planned Hurontario LRT, but will be subject to a future study of higher order public transit.
Mississauga councillor Jim Tovey, who died in January, is widely credited with the vision for transforming the waterfront near Cawthra Rd., south of Lakeshore Rd. E.
"Mississauga is ready to work with the consortium to build a master-planned community that will become a destination for tourism, business and innovation," said Mayor Bonnie Crombie in the OPG release.
Prior to the construction of the coal plant, the site served as an aerodrome, rifle range, wartime barracks and temporary postwar housing.
Lakeview, which operated for 43 years, was de-commissioned in 2005 and the "Four Sisters" smokestacks, a feature on the lakefront for decades, were demolished the following year.
"Shutting the Four Sisters at Lakeview not only provides us with clean air to breathe, but unlocks the value of these lands to create a new, green, sustainable community for everyone to enjoy," said Ontario Finance Minister Charles Sousa, who is the MPP for Mississauga South and has lived in the area since he was 7.
The proposed development is supposed to provide ample sightlines to the water and will focus on mid-rise development, although some higher buildings will be considered, says the city.