KPMG STUDY: Ontario's Apartment Industry contributes $18.3 Billion to the economy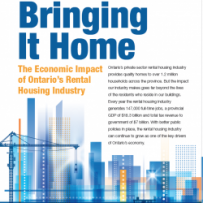 ***Report highlights the rental housing industry's contribution to jobs, tax revenue, infrastructure investment and GDP
***
Don Mills – Ontario's rental housing industry contributed over $18.3 billion to the province's GDP in 2012, while supporting 147,000 full-time jobs and generating $7 billion in tax revenues to governments, according to a new report released today by the Federation of Rental-housing Providers of Ontario (FRPO). The report, along with a summary of highlights titled, "Bringing it Home", is available on www.frpo.org.
Based on research completed in December 2013 by KPMG Canada using data from Statistics Canada, the report covers the economic contribution of apartment construction, renovation and operations in Ontario.
Highlights from the report include:
Ontario's rental housing industry generates 146,534 full time jobs in Ontario, with an average annual salary of $56,600 and total labour income of $8.29 billion in 2012.
The rental housing industry contributes to almost 3% of Ontario's GDP, totaling $18.3 billion, plus a remaining $1.9 billion to the GDP of other Canadian provinces for a total GDP impact of $20.2 billion.
The rental housing industry invested over $4.5 billion in housing infrastructure in 2012 – more than the annual provincial capital budgets for hospitals, highways or public transit.
Over 56,000 new rental housing units were constructed between 2006 and 2012, creating over 33,000 full time jobs
Ontario's rental housing industry contributes $7 billion in tax revenues to all levels of government – more than the agriculture and food, arts and culture, mining, and aerospace industries combined. Of this amount, $6.45 billion was collected in Ontario.
"Ontario's private sector apartment industry is robust, providing over 1.2 million rental homes to Ontarians who seek choice and affordability in housing", said Mike Chopowick, Acting President & CEO of FRPO. "An improved regulatory environment that encourages future investment can help secure the economic activity, tax revenue, jobs and personal earnings created by rental housing."
FRPO is the largest association in Ontario representing those who own, manage, build and finance residential rental properties.  FRPO's membership includes more than 2,200 members in every area of Ontario, who own or manage over 350,000 rental homes.
KPMG Canada has offices in 33 locations across the country. The firm's more than 700 partners and 5,600 employees provide crucial Audit, Tax, and Advisory services to many public and private business, not-for profit, and public-sector organizations in Canada.

* * *
For more information contact: Mike Chopowick at mchopowick@frpo.org or 416-385-1100 x21
– See more at: http://www.frpo.org/Rental housing economic impact – sthash.BtdXgmZ7.dpuf