Killam Properties Inc. completes $97.1 million in acquisitions in Ontario and Alberta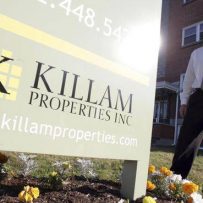 Killam Properties Inc. (TSX: KMP) is pleased to announce that it has closed four previously announced acquisitions in Ontario and Alberta. These assets increase Killam's geographic diversification, with over 20% of Killam's future net operating income now expected to be generated in Ontario and Alberta. The acquisitions were originally announced on November 10, 2014.
Increased Ownership Interest in Three Ontario Properties
Killam has acquired an additional 75% interest in 180 Mill Street (127 units, located in London), increasing the Company's ownership to 100% in this property. Killam has also acquired an additional 25% interest in Kanata Lakes Apartments (146 units, located in Ottawa) and 1355 Silver Spear Road (199 units plus surplus land for approximately 110 additional units, located in Mississauga). Killam previously owned a 25% interest in each of these two properties. An affiliate of KingSett Capital Inc. ("KingSett") and AIMCo Realty Investors LP, a limited partnership managed by Alberta Investment Management Corporation ("AIMCo"), has acquired the remaining 50% interest of each of these two properties.
Killam's Ontario acquisitions, totaling $47.1 million, represent the end of Killam's joint venture with Kuwait Finance House. The acquisitions were satisfied with existing mortgage debt of $27.6 million and cash on hand following the recently completed equity raise. The capitalization rate on the acquisitions is approximately 5.0%.
First Calgary Acquisition Completed
Killam has acquired a 50% interest in Grid 5 Apartments, a 307-unit building located in downtown Calgary, Alberta. The acquisition represents Killam's entry into the Calgary apartment market. An affiliate of KingSett and AIMCo owns the remaining 50% interest.
Grid 5 Apartments, located at 618 5th Avenue SW, has recently completed its lease-up phase following an extensive redevelopment program. The building includes 44 bachelor units, 197 one-bedroom units and 66 two-bedroom units. The average monthly rent for the residential units is $1,390. The building also includes approximately 14,500 square feet of commercial space and five levels of parking, including 274 stalls, generating average revenue of $410 per stall per month.
The purchase price for Killam's 50% interest in Grid 5 Apartments was $50.0 million, representing a capitalization rate of approximately 5.0%.  This purchase price was satisfied with new mortgage debt of $30.0 million, a private placement of $4.5 million in common shares at an issue price of $10.56, and cash on hand.
"We are pleased to have completed these four acquisitions so soon after closing our recent equity offering," noted Philip Fraser, Killam's President and CEO. "With these acquisitions, Killam has completed $160 million in acquisitions in 2014, our largest year of acquisitions since 2005."
"We are also pleased to have expanded our relationship with KingSett and AIMCo to now hold four properties together and look forward to other opportunities in the future."
Killam Properties Inc., based in Halifax, Nova Scotia, is one of Canada's largest residential landlords, owning, operating and developing multi-family apartments and manufactured home communities.
Note: The Toronto Stock Exchange has neither approved nor disapproved of the information contained herein. Certain statements in this report may constitute forward-looking statements relating to the offering, the Acquisitions, our operations and the environment in which we operate, which are based on our expectations, estimates, forecast and projections, which we believe are reasonable as of the current date. Such forward-looking statements involve risks, uncertainties and other factors which may cause actual results, performance or achievements of Killam to be materially different from any future results, performance or achievements expressed or implied by such forward-looking statements. For more exhaustive information on these risks and uncertainties, you should refer to our most recently filed annual information form which is available at www.sedar.com. Readers, therefore, should not place undue reliance on any such forward-looking statements. Further, a forward-looking statement speaks only as of the date on which such statement is made and should not be relied upon as of any other date. Other than as required by law, Killam does not undertake to update any of such forward-looking statements.
SOURCE Killam Properties Inc.
 For further information: Killam Properties Inc., Dale Noseworthy, Vice President, Investor Relations & Corporate Planning, (902) 442-0388, dnoseworthy@killamproperties.com, www.killamproperties.com