KEVIN RUSSELL ON THE CHALLENGES N.S. LANDLORDS FACED IN 2022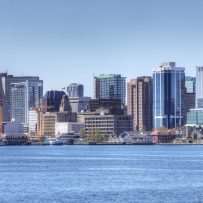 To cap off 2022, Huddle sat down with some of the key figures in Atlantic Canada's business community – folks representing everyone from tourism operators to energy producers to the startup world.
We asked each to reflect on the challenges, successes, and surprises that most impacted their industries and the lives of Atlantic Canadians this year.
In the latest of several conversations we will bring you before the new year, Huddle reporter Derek Montague chatted with Kevin Russell, the executive director of the Investment Property Owners Association of Nova Scotia.
His answers have been edited for length and clarity.
Q: As somebody who speaks on behalf of landlords and property investors in Nova Scotia, when you look back at 2022, what comes to your mind?
This year unfolded the way we predicted it would, and that's very unfortunate. What's happening now is the Nova Scotia rental market is taking on all the characteristics of a rent-controlled jurisdiction.
By researching other jurisdictions, we kind of knew what was going to happen. I mean, there's textbook characteristics; you now have new tenants subsidizing existing tenants because of the rent cap; you have small rental housing providers exiting the business because it doesn't make any economic sense. Our survey showed that there's more than 12,000 units at risk of being sold. So, once they sell off, the rental inventory becomes tighter.
What we didn't predict was the impact of high inflation. We didn't know how high inflation was going to go and it's had a substantial negative impact on operations for rental housing providers.
Oil heating is still a majority of the heating for apartment rental buildings and, and oil has jumped dramatically in the last year, there's no way to recoup the increase in costs.
We're the only business in Nova Scotia that can't recoup costs. We can't recoup increased costs on insurance premiums and snow plowing is up dramatically. I mean, these expenses I'm talking about all have double- and triple-digit increases, and then you throw in property taxes.
The economics of operating a rental property have become very challenging.
Q: A new report shows the average rent went up about 25 percent in Nova Scotia from 2021 to 2022. Some people may look at those that data and think landlords are doing well despite the rent cap. What's your feeling?
Sites like rentals.ca, or any online listing company, distort the actual rent increases because their data is based on availability at the time and doesn't include rental costs of unlisted units. It's not reflective of the overall market.
We commissioned a report from Turner Drake that analyzed the methodology of online listings compared to the Canada Mortgage and Housing Corporation methodology, and it's clear that the CMHC methodology is more accurate and gives you a longer-term view. It's not a snapshot.
Q:  Over the past year you've tried hard to get Tim Houston and the Housing Ministers John Lohr's attention. What kind of response have you received from the government?
Nothing. There were recent announcements on energy rebates for homeowners, meanwhile, Nova Scotia apartment rental providers provide homes for more than 300,000 people. In most of those cases, renters have their heat included in their rent, yet there was no assistance program for landlords. So, our lobbying efforts are sort of met with indifference, I guess, is the best way to describe it.
We've had a meeting with the provincial government and they thanked us for our position papers, which included policy solutions that they could look at, and so far we have seen nothing come from that meeting.
Q: Are there any bright spots for Nova Scotia landlords in 2023?
At this point, no. And the rental market will probably be more challenging and 2023 than it was in 2022.
If the units that are being sold are single-family homes, duplexes, triplexes, townhouses, they'll go back into single-family home ownership and they'll be taken out of rental stock. That means that the current renter and occupant of the property will have to vacate the unit. And that's going to make the market even tighter.