Is the municipal government sacrificing Vancouver's future for votes?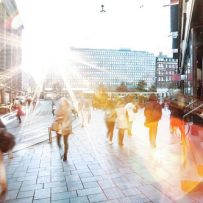 Vancouver's municipal government has proposed building height caps in Chinatown—but that's myopic, charges the Urban Development Institute, which believes it will exacerbate the shortage of housing.
Metro Vancouver is expecting 65,000 new residents annually until 2021, and UDI is confounded by the municipal government's proposed cap.
"We're surprised they'd make a move like this in the middle of a housing crisis, and at a time when that area needs revitalization," said Anne McMullin, UDI's president and CEO. "They had a plan they worked on for 10 years and created policy to ensure the heritage, look, feel and charm of Chinatown would be maintained, but that it's close to an election, perhaps doesn't surprise us."
Last week, UDI penned an open letter to Vancouver Mayor Gregor Robertson expressing concern at the "City's haphazard approach to the Chinatown Neighbourhood Plan and the rushed proposal to amend it and the Chinatown HA-1 and HA-1A Districts Schedule. If implemented, the changes will create a negative precedent for civic planning and other established area plans throughout the City. We respectfully request that Council not move forward with staff's recommendations as proposed."
According to McMullin, UDI isn't proposing large glass towers be built throughout Chinatown, but she believes the municipal government is more concerned about the upcoming election than it is about the wellbeing, and future, of the city.
She also says that it erodes the integrity of planning and consultations, which are years in the making.
"From our perspective, it's about the change after years of planning," she said. "That throws into question the value and integrity of land use plans, and any certainty that businesses would have—that when you go through a planning process and you make your investments and plans, but then at the 11th hour it changes. Plans anywhere else in the city could change. That a municipality would come in before an election, after years of planning, and make this change is disappointing."
Urban Development Institute is also troubled by the two-and-a-half-year development moratorium in the Broadway Corridor precisely because of the supply crunch. However, according to Shawn Anderson of the Engel & Völkers VANCITYliving team, the Broadway moratorium is intended to curb speculation.
"What I understand they've done in the Broadway Corridor is they're trying to limit land speculation, which is exactly what occurred on the Cambie Corridor where the SkyTrain is," he said. "They did a massive rezoning of Cambie Corridor, which resulted in huge land uplift for single-family houses that were later rezoned for multifamily. My understanding is they're doing this to limit land speculation that will potentially occur, particularly in the Broadway Corridor."
However, juxtaposed with the city's almost desperate need for more density, is it a good thing?
"I guess curbing speculation is a good thing but the overall result is that we don't get needed density. Perhaps that's not the best thing."