Is crowdfunded real estate worth the hype?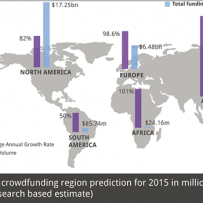 Q: I've seen a lot of press lately on crowdfunded real estate investments. I'm wondering if this is a good way to invest in real estate if I don't want to be a hands-on landlord?
— Curious about crowdfunding, Winnipeg, MB
Answer from Romana King, senior editor and real estate specialist at MoneySense: Want to invest in brick and mortar properties but don't like the idea of being a hands-on landlord? Want investment returns on your real estate investment, but don't like the almost-like-equities style of Real Estate Investment Trusts (REITS) and Mortgage Investment Corporations (MICs)? Consider real estate crowdfunding.
Over the last couple of years, real estate based crowdfunding sites—like RealtyMogul.com, Plentyofmoose.com, NexusCrowd.com, PatchofLand.com, DwellXchange.com and most recently Sharestates.com—have sprung up. All operate under the same basic premise: use technology to help individual and institutional investors to buy equity in various types of real estate holdings. On the flipside, these crowdfunding sites also help real estate owners (such as developers, property managers and even everyday homeowners) to raise equity for their property or projects.
It's a model that's really taken off. For example, in 2014, the Palm Springs Hard Rock Hotel used a real estate crowdfunding platform to raise US$1.5 million to refinance and renovate the property. The minimum investment was US$10,000, and this buy-in enabled individuals to become equity owners in the hotel with each investor receiving a package of VIP guest perks.
According to a Massolution report, crowdfunding investments in real estate is poised to grow. In 2014, the entire sector raised over US$1 billion in real estate financing. The invested funds in this space were expected to hit US$34.4 billion worldwide by the end of 2015.
Up until now, most of these real estate crowdfunding platforms were open only to accredited investors—individuals or couples with at least $1 million in financial assets, or those with consistent incomes of $200,000 or more each year ($300,000, if a couple). Still, other sites were restricted only to American investors.
But there are options for Canadian investors. One platform for everyday, retail investors (like you and me) is American-based DwellXchange.com, a site that specializes in offering investors equity positions on individual, owner-occupied homes. In other words, you become a passive investor in somebody else's home or real estate property, with the expectation that when the owner sells, your investment is returned to you, along with a percentage of the profit made from selling the home once it appreciated.
Yes. There are a lot of assumptions with this type of investment. There's the assumption that the homeowner will sell, eventually. There's also the assumption that the property will increase in value, eventually. Finally, there's the assumption that other investors are only too happy to buy your equity portion in the property. As you can imagine these limitations can actually lock your money into this real estate investment, creating liquidity issues. This lack of liquidity is actually the reason why Dwellxchange launched its secondary selling market—an online portal that allows crowdfunding real estate investors to buy and sell their equity portions minus a 25 basis point fee.
Still, another couple of options for Canadians are NexusCrowd.com and Sharestates.com—but these are only open to accredited investors. (Technically, you can invest in Sharestates as a non-U.S. person that's not an accredited investor but keep in mind that you will not get a prospectus so you are certainly taking on more risk.)
Now, NexusCrowd.com is one of the few Canadian-based real estate crowdfunding platforms. The crowdfunded real estate investment firm only takes on projects that are already 50% capitalized, or put another way, the developer and builder have already raised at least 50% of the funds required to build or remodel the proposed project. By structuring our investment model this way, explains Hitesh Rathod, CFA and co-founder of NexusCrowd.com, we avoid the riskiest part of a property development, which are the start-up soft costs. 
Yet, you'll need to prove you're an accredited investor before you can proceed with any opportunities with Nexuscrowd.com—and that's only after a comprehensive Know-Your-Client process the firm insists each investors much go through. "We want to make sure that these investments are suitable for the investor."
Still, before you sign up and start buying make sure you read the fine print. Most of the current crowdfunding sites are not bound to the standardized financial reporting requirements that are mandatory by firms regulated by the SEC or Canada's equivalent, OSFI. As a result, many crowdfunding platforms don't offer a full prospectus—a formal legal document, required by and filed with a regulatory body, such as OSFI, that provides details about an investment offered for sale to the public. A prospectus should contain all the facts that an investor needs to make an informed investment decision. That said, investors can usually find some information, such as an investment plan, an appraisal report and a financial breakdown for each project, but it still pays to do your own due diligence with this type of investment. Just remember, you're essentially getting into the private mortgage business and that can come with great reward, along with significant risk.
I'm not the only real estate professional that feels this way. Calum Ross, an Ontario mortgage broker with a long history of helping real estate investors, weighed in with a comment on the MoneySense site. He stated: "Private mortgage and syndicated mortgages are very risky investments. People need to be very careful to understand the risk and deal with reputable people. In reality very few people have the risk profile and appropriate understanding to get involved. I fundamentally believe that only accredited investors should ever be allowed in this type of investment."
One final note: The purpose of finding alternative investments, such as real estate, is to expand and diversify your portfolio. Yet, if an investment into real estate crowdfunding turns out to be focused on just one property you should stop and ask yourself: Does this add to my portfolio's overall diversified holdings, or does this investment limit my portfolio's diversification? If you find that you're too heavily invested in any one asset class, geographical region or type of investment, your portfolio may suffer in the long run.