IS COVID-19 MAKING HALIFAX A MORE ATTRACTIVE PLACE TO DO BUSINESS?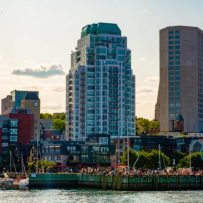 Covid-19 has devastated Halifax's economy on just about every front, but the global pandemic appears to be pushing more firms to expand and hire in the city.
Wendy Luther is the president and CEO of the Halifax Partnership. She says her investment attraction team is fielding more calls than ever from firms looking to make Halifax their home.
Since the beginning of April, Luther says her team has secured confirmation from seven companies who will move into Halifax this year.
Shopify, North Bay Solutions, Arcurve, and HuMetis Technologies will all hire substantially or expand their operations into the city this year, creating as many as 535 jobs.
Three more companies, which Luther says she can't yet reveal, have also decided to make Halifax their home.
Seven firms in less than four months is a blistering pace for the investment attraction team (their quota for the entire 2018/2019 fiscal year was 14)—especially, you might think, during a business-killing pandemic.
But Luther says Covid-19 has, in many ways, made the city a much more attractive expansion option.
"The conversations that my team is having with these companies on their location or expansion plans have been incredibly motivating because the situation that is playing out in the world is strengthening their resolve to locate here," Luther says.
Luther says the "natural assets" Halifax already relied on to attract new businesses have become even more prized in a post-Covid-19 business landscape.
The city's post-secondary institutions are churning out a deep pool of talented graduates that expanding companies rely on to fill new jobs. That talent pool is also fed by an aggressive immigration strategy that welcomes new Canadians and makes it easy for firms to hire internationally.
"So as Halifax becomes more diverse, especially how we've become more successful in immigration, how successful we've been at international student attraction and retention, that makes us that much more competitive to attract those global players," Luther says.
This is especially true, she says, now that countries like the United States are making international immigration so difficult.
"So as other countries clamp down on certain paths for immigration, or are showing more of a close-minded approach to opening up their communities and workplaces, that certainly is our boon in attracting the most forward-thinking companies and most forward-thinking individuals to Halifax," Luther says.
HuMetis CEO Kumar Rangarajan recently told Huddle his company chose to expand to Halifax because of the strength of the city's post-secondary institutions and its willingness to help companies like his hire from abroad.
"Overall, Canadian government policies are pro-growth. And when we identify the right talent… they are really able to help bring the right personnel from anywhere in the world," he said.
He also said Halifax has "a business community that knows what's going on, they're up on technology," and "will welcome us and help us be successful. That is a huge thing for a business like us. That will keep us competitive in the industry."
Even Nova Scotia's handling of the pandemic itself is helping Halifax's image, Luther says.
"In our conversations, we're speaking with companies from India, from the UK, Dubai that are looking at how Canada, and most notably Halifax and Nova Scotia, are handling the pandemic and it has made us even more competitive than perhaps we were before," she says.
Story by: Huddle