Is Alberta set for a comeback this year?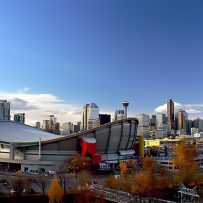 Alberta's economy is set to emerge from its slump this year with momentum in its housing market and a boost in oil production.
After two years of recession, Alberta is expected to lead the nation this year with economic growth expected to be 3.7 per cent — the largest gain of all provinces, according to TD Economics' Provincial Economic Forecast published today.
However, the province won't stabilize at this rate and is expected to moderate to 2.6 per cent in 2018.
It's worth noting that Alberta's economic growth is coming off a very low base and in 2018 the level of economic activity will be below levels recorded in 2014.
Saskatchewan is also expected to rebound this year from contracted levels in 2016 to 2 per cent by 2018.
Both Alberta and Saskatchewan are forecast to bounce back with help from a projected boost in oil prices this year.
"We do expect oil production, particularly in Alberta, to rise this year which will help overall growth and both economies have seen momentum picking up outside of the oil patch so far this year," Dina Ignjatovic, TD Economist tells BuzzBuzzNews.
Strength in the manufacturing, retail sales, housing and employment sectors are also drivers of economic growth in both provinces.
Alberta's housing market is predicted to pick up speed with home sales forecast to increase by roughly 8 per cent this year compared to 2016.
However, Ignjatovic says sales growth is expected to slowdown in 2018 increasing slightly by 1.9 per cent from 2017 because of an expected rise in interest rates this year.
With its comeback, Alberta's economy will help to pull up the Canadian economy.
TD Economics predicts Canada's growth rate will be 2.8 per cent this year, a 1.3 percentage point uptick from last year. And Alberta's economic growth will account for a full percentage point of the national increase.
Since 2014, Ontario and BC have topped the leaderboard for economic growth with annual gains of 3.3 and 2.6 per cent, respectively.
However, this year's growth levels in both provinces are forecast to decline but will remain at or slightly above the national average.
Despite government policies implemented last year, including Metro Vancouver's foreign-buyer tax, BC's economy maintained momentum over the past year, driven by the housing market.
Even though home prices have been on a steady incline this year, a possible hike in interest rates is expected to mitigate a gain in BC's economic activity in 2018.
"Prices are still elevated and affordability is not the best in these regions [Ontario and BC]. When affordability is not great that's when you see a bigger impact from interest rates," says Ignjatovic.
Last year, BC saw robust home construction but Ignjatovic says overall economic activity will be impacted by a significant drop in homes being built this year.
"If you look at housing starts they were up by over 30 per cent last year and so this year we have them falling by only 4 per cent. And it's not getting that big boost to construction that it did last year and it's actually providing a bit of a drag this year," says Ignjatovic.