INVESTORS ARE CAUTIOUSLY OPTIMISTIC AFTER SIGNS OF ECONOMIC REBOUND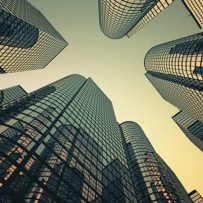 The latest results from Altus Group's Investment Trends Survey (ITS) for the 4 Benchmark asset classes show that the Overall Capitalization Rate (OCR) was little changed at 5.14% in Q3 2020, but grew from 5.01% in the same quarter last year (Figure 1).
While the impact of COVID-19 on market conditions persists, investors are cautiously optimistic as the end of the year approaches. With strong industrial demand being boosted by the pandemic, the industrial sector continues to remain resilient amid changing market conditions. The office sector still faces unprecedented challenges with work from home constraints likely existing until at least 2021, leading both landlords and tenants to consider new solutions moving forward. Despite businesses slowly re-opening over recent summer months, the retail and entertainment sector anticipates additional challenges moving forward as the weather gets colder, leaving less room for outdoor physical distancing. Although there has been a decrease in total transaction volume, down by 20% for the first half of 2020 compared to 2019, overall commercial real estate remains stable as deals continue to close. With a second wave now declared in some areas, as well as the end of some government assistance programs, the delay in real estate decisions may continue.
(Figure 1)

As predicted by the Bank of Canada earlier this year, economic growth has resumed, but at a slow rate. While unemployment levels steadied after reaching a record high in May, the Conference Board of Canada forecasts that some jobs will not return, requiring the creation of additional jobs in new segments along the road to recovery. The board reports notable employment gains within the accommodation and food services sector as businesses made adjustments to meet new avenues of demand such as take-out and outdoor dining, as well as in the manufacturing sector which is well in alignment with increasing demand for industrial space across the country. Still, the Canadian unemployment rate sits at 10.2% at the end of August, according to Statistics Canada. Interest rates continue to remain low, and are forecasted by the Conference Board of Canada to stay that way long-term as the Canadian economy is unlikely to fully recover until 2022 or 2023. Food anchored Retail Strip and Single-Tenant Industrial are the top preferred products this quarter. The location barometer for all available products indicates positive momentum within the Calgary, Montreal and Halifax markets, while momentum has slowed in Vancouver, Toronto, Ottawa and Quebec City, and remains stable in Edmonton (Figure 2). Toronto and Vancouver remained among the top preferred markets, now accompanied by Montreal. With the ongoing struggles in the Alberta economy, Edmonton is the least preferred market by investors.
(Figure 2)
Market highlights for the quarter include:
Cap rates remain relatively stable amid pandemic-induced changes. Investors are cautiously optimistic moving into the end of 2020 as deals continue to close, albeit at a lower volume, and as the market pivots to overcome recent challenges. Overall cap rates showed virtually no change at 5.14% this quarter following a jump seen across all markets in the previous quarter. Vancouver, Calgary and Toronto showed the greatest increase from the previous year. Calgary and Edmonton experienced the largest drop compared to the previous quarter, while other markets remained stable.
With many offices likely to remain empty until at least the end of this year due to pandemic restrictions, landlords continue to search for solutions as more tenants consider returning some space to the market, further driving the sublease trend in downtown Toronto and Vancouver. Downtown Class "AA" office cap rates rose to 5.58% this quarter, up slightly from 5.53% in the previous quarter and 5.36% in the same quarter last year. Edmonton was the only market to see a decrease compared to the previous quarter. On a year-over-year comparison, all markets shifted upwards with Ottawa seeing the highest increase.
Industrial assets continue to fare well, in line with ongoing increases in e-commerce activity, driving the need for more space to meet rising levels of demand as investors are motivated to expand their industrial portfolios and acquire top-quality assets. Both single- and multi-tenant industrial assets are among the top three preferred products by investors again this quarter. Single-tenant industrial cap rates decreased slightly to 5.33% this quarter, down from 5.36% in the previous quarter. Compared to the same quarter last year, almost all markets saw cap rates compress, with Halifax and Quebec City experiencing the largest decrease, Edmonton and Toronto remaining stable, and Vancouver inching slightly upwards. Montreal was the only market to see a slight uptick compared to the previous quarter.
Despite some signs of a rebound, pandemic effects continue to batter the retail sector. While multiple retailers filed for bankruptcy early in the pandemic, some have adjusted operations to meet new consumer expectations. As predicted, food-anchored retail has performed well this quarter, the top most preferred product by investors (Figure 3), and those with necessity-based offerings are likely to maintain strong results. Still, the approach of colder weather will introduce new challenges for retailers and restaurants to maintain physical distancing while fully indoors, as well as finding ways to draw consumers in for entertainment offerings throughout the fall and winter months. Tier I regional mall cap rates remain stable at 5.29% this quarter with Halifax, Quebec City and Toronto inching upwards, and Vancouver, Ottawa and Montreal moving down. Compared to the same quarter last year, all markets experienced an overall rise, with Halifax increasing the most, followed by Calgary.
While multi-res assets still appeal to investors, demand continues to be influenced by pandemic effects, such as enduring international travel restrictions, continued threats of rent arrears, and the projected end of CERB and mortgage deferrals as we move into the final quarter of 2020. Suburban apartment cap rates fell to 4.39% this quarter, down from 4.43% in the previous quarter, but remaining stable compared to the same quarter last year. Vancouver and Montreal were the lone markets with an increase in cap rates, while Edmonton experienced the largest drop from the previous quarter. The greatest increase year-over-year was recorded in the Vancouver market.
(Figure 3)

Other highlights include:
Of the 128 combinations of products and markets covered in the Investment Trends Survey:

57 had a "positive" momentum ratio (i.e., a higher percentage of respondents said they were more likely to be a buyer than a seller in that particular segment), an increase compared to 48 in Q2 2020; 69 had a "negative" momentum ratio, a decrease from 70 in the previous quarter; and 2 were neutral compared to 10.

The top 15 products/markets, which showed the most positive momentum were (Figure 4):

Halifax Single-Tenant Industrial, Suburban Multiple Unit Residential, and Food Anchored Retail Strip
Quebec City Single- and Multi-Tenant Industrial, and Suburban Multi-Unit Residential
Ottawa Suburban Multiple Unit Residential, and Single- and Multi-Tenant Industrial
Toronto Food Anchored Retail Strip, Suburban Multiple Unit Residential, and Industrial Land
Vancouver Food Anchored Retail Strip
Montreal Suburban Multiple Unit Residential and Food Anchored Retail Strip
(Figure 4)
The Report

Every quarter, senior Altus Group professionals reach out to over 200 investors, managers, owners, lenders, analysts and other market stakeholders to survey their opinion on value trends and perspectives. Conducted with the same benchmark properties for more than 15 years, the survey provides valuable insights on investor preferences and valuation parameters for 32 asset classes in Canada's 8 largest markets.
Story by: Altus Group