Introduction to Marketing Strategy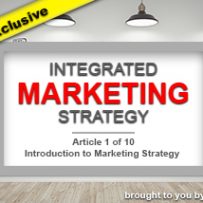 RHB Newsreel is pleased to announce a partnership with Skyline Living, a division of the Skyline Group of Companies, in bringing you an exclusive series of articles. We will be sharing Marketing Strategies throughout the year authored by, Skyline Living's Advertising Coordinator Sarah Rodrigues. The first article in the series introduces Sarah, what you can look forward to reading each month and how to benefit from a solid marketing strategy tailored to your company profile.
Marketing strategy and rental housing
I'm excited to be working with Rental Housing Business to produce their first marketing column. As the Advertising Coordinator at Skyline Living, I work closely with the marketing team to ensure that our vacancy levels remain low at all times of the year. Each month I'll be sharing a different aspect of integrated marketing communications, its applications in the apartment industry, and some personal experiences of what has worked for Skyline Living in the past – and what hasn't!
Marketing strategy in many organizations is implied, haphazard, or even non-existent. It is often an afterthought, particularly in companies that have experienced rapid growth. I have actually heard an employee of a former client say, "We don't have time for marketing; we're too busy trying to make sales."
A quick Google search of "apartment marketing" is telling. Articles that purport to be about marketing are almost exclusively about advertising, which is part of marketing but certainly not all of it. Many of them are actually trying to sell you on a particular advertising site or lead tracking system that will "change the way you do business."
It's possible you need to change the way you do business (at least a little bit) from a marketing perspective, but there's no magic tool that will do that for you overnight. The key is learning about your business, your customers, and generating a marketing strategy that achieves your objectives and enhances your brand in the long run.
What is an IMC plan?
An integrated marketing communications (IMC) plan, in general, is a strategy document that recommends the marketing, advertising, branding, promotion, communications, and public relations strategies required to achieve an organization's objectives. There is no set template, because it is entirely dependent on the organization's goals, the context, the industry, the budget, and the time frame. You can have an IMC plan for smaller marketing efforts, such as an individual event or campaign, or for an entire organization.
Over the next nine months, this column will focus on the different aspects of a general IMC plan for the rental housing industry:
Branding,
Web & digital strategy,
Online advertising,
Print advertising,
Campaign tracking and testing,
Customer engagement,
Staff engagement, and
Public relations.
Then we'll wrap it all up with some tips for making marketing a truly company-wide integrated process.
Where do I start?
The first step to creating an integrated marketing plan is to do a complete organizational assessment. What is your company culture, vision, and mission? What are your core competencies? Perform a Strengths, Weaknesses, Opportunities and Threats (SWOT) analysis  of your own company and of your major competitors.
Based on your analysis, determine what your goals and objectives are. Be as specific as possible. An example of an objective might be, "Decrease vacancy ratings by 1% by August." Make sure your goals are specific, measurable, attainable, realistic and time-related. Then lay out your objectives. What specifically do you need to accomplish to reach these goals?
At this point in the process, you may discover that you need to narrow down your scope. If you own many buildings in many markets, doing a company-wide marketing plan might not be detailed enough. Consider building separate marketing strategies for each segment. Some ways you can segment your portfolio include:
Lifestyle (e.g. student, senior, family)
Rent price (e.g. low-income, luxury)
City/region
Unit types
Segmentation allows you to focus your objectives on more specific problems relevant to that segment. For example, the student segment will need to focus marketing efforts on nearby post-secondary institutions at specific times of the year, and deals with a more transient tenant base than other types of buildings. That said, the objectives for the individual segments should serve the overall goals, and be consistent with the organization's brand.
Once you have a good idea of where your company is, and where it needs to be, you can start mapping out how to get there. Next month, I'll discuss the importance of consistent, effective branding, and how to generate awareness of your brand with your current and potential tenants.
Biography
Sarah Rodrigues is the Advertising Coordinator for Skyline Living, a division of the Skyline Group of Companies, which operates 142 apartment communities in 46 cities across Ontario, Quebec, Alberta, and British Columbia. She has worked in communications, project management, advertising, and marketing in a number of industries. Feel free to connect with her on LinkedIn.