INTERRENT ANNOUNCES $292.5 MILLION PORTFOLIO ACQUISITION IN METRO VANCOUVER WITH CRESTPOINT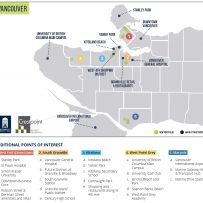 InterRent Real Estate Investment Trust (TSX-IIP.UN) ("InterRent" or the "REIT") announced today that, together with Crestpoint Real Estate Investments Ltd. ("Crestpoint"), it has entered into agreements to acquire 15 properties in Metro Vancouver (the "Acquisition Portfolio") for a combined purchase price of $292.5 million. Under the arrangements, InterRent and Crestpoint will each own a 50% interest in the Acquisition Portfolio. InterRent will property manage the Acquisition Portfolio and collect industry standard fees. The acquisition will be financed with a combination of cash and new short term debt of approximately $190.1 million. The acquisition is expected to close on January 28, 2021. The properties are all located in highly desirable, amenity-rich neighbourhoods with a weighted average walk score of 90.
The Acquisition Portfolio provides InterRent with a unique opportunity to acquire critical mass and scale in Vancouver, Canada's third largest rental market. The Vancouver rental market has historically demonstrated strong fundamentals; over the past five-years, the average vacancy rate has been at or below 1.1% and rental rates have grown at a CAGR of 5.9% per year. The expanding tech sector and its outsized proportionate share of immigration all support a very robust demand for multifamily housing in Vancouver. The Canadian government announced increases to the national immigration targets on October 30, 2020. These updated targets represent an increase of 50,000 additional permanent residents per year for 2021 and 2022. Management believes that Vancouver will continue to receive a disproportionately large share of immigrants moving to Canada.
The Acquisition Portfolio consists of 15 properties, from 6 vendors, comprising of 614 residential suites. Nine of the properties are concrete mid-rise apartments and six of the properties are wood frame apartments. The properties are in premium locations in the Metro Vancouver submarkets of the West End, Kitsilano/Point Grey, Marpole, and South Granville. The properties are situated in core locations within prominent neighborhoods offering superior walkability, access to transit, major employment, recreational amenities, universities, and downtown Vancouver (see map of properties on following page).
"We are thrilled to enter the Vancouver market, with scale, through the acquisition of this institutional-quality portfolio that is extremely well-located. The Vancouver rental market continues to exhibit strong, sustainable market fundamentals, with exposure to a growing tech sector. We look forward to enhancing these properties with our best-in-class management platform, customer service and community-focused approach. This is a market we have targeted for a long time. We are very pleased to partner with a best-in-class team like Crestpoint for this portfolio" said Mike McGahan, CEO of InterRent.
"The multifamily space has been an area of interest for Crestpoint and to enter this sector for the first time through a well diversified portfolio in one of the most sought after cities in the world is a tremendous opportunity. There is a real benefit to combining forces with a highly reputable, experienced operator like InterRent, and the addition of these assets should provide long term benefits to Crestpoint's growing portfolio while providing a springboard to accumulate numerous properties in the multifamily sector, across Canada" said Kevin Leon, President and founder of Crestpoint.
| | | | | | |
| --- | --- | --- | --- | --- | --- |
| Address | Neighbourhood | Suites | Elevators | Build | Walk Score1 |
| 1885 Barclay St | West End | 41 | 1 | Concrete | 92 |
| 1924 Barclay St | West End | 42 | 1 | Concrete | 94 |
| 1580 Haro St | West End | 61 | 2 | Concrete | 96 |
| 855 Jervis St | West End | 48 | 1 | Concrete | 96 |
| 1270 Nicola St | West End | 37 | 1 | Concrete | 91 |
| 1461 Harwood St | West End | 38 | 1 | Concrete | 83 |
| 1326 W 13th Ave | South Granville | 30 | 1 | Concrete | 91 |
| 1355 W 14th Ave | South Granville | 28 | 1 | Concrete | 87 |
| 2280 W 6th Ave | Kitsilano | 43 | 1 | Wood | 94 |
| 2040 York Ave | Kitsilano | 54 | 1 | Wood | 95 |
| 4640 W 10th Ave | West Point Grey | 14 | 1 | Concrete | 84 |
| 8675 French St | Marpole | 72 | 1 | Concrete/Wood | 89 |
| 8740 Cartier St | Marpole | 35 | 1 | Wood | 78 |
| 8790 Cartier St | Marpole | 35 | 1 | Wood | 85 |
| 1373 W 73rd Ave | Marpole | 36 | 1 | Wood | 80 |
| Total/Weighted Average | | 614 | 16 | | 90 |
1Source: walkscore.com
About InterRent
InterRent REIT is a growth-oriented real estate investment trust engaged in increasing Unitholder value and creating a growing and sustainable distribution through the acquisition and ownership of multi-residential properties.
InterRent's strategy is to expand its portfolio primarily within markets that have exhibited stable market vacancies, sufficient suites available to attain the critical mass necessary to implement an efficient portfolio management structure and, offer opportunities for accretive acquisitions.
InterRent's primary objectives are to use the proven industry experience of the Trustees, Management and Operational Team to: (i) to grow both funds from operations per Unit and net asset value per Unit through investments in a diversified portfolio of multi-residential properties; (ii) to provide Unitholders with sustainable and growing cash distributions, payable monthly; and (iii) to maintain a conservative payout ratio and balance sheet.
About Crestpoint Real Estate Investments Ltd.
Crestpoint Real Estate Investments Ltd. is a commercial real estate investment manager, with $5.3 billion of gross assets under management, dedicated to providing investors with direct access to a diversified portfolio of commercial real estate assets. Crestpoint is part of the Connor, Clark & Lunn Financial Group, a multi-boutique asset management company that provides investment management products and services to institutional and high net-worth clients. With offices across Canada and in Chicago, New York and London, Connor, Clark & Lunn Financial Group and its affiliates are collectively responsible for the management of over $85 billion in assets. For more information, please visit: www.crestpoint.ca
Forward Looking Statements
This news release contains "forward-looking statements" within the meaning applicable to Canadian securities legislation. Generally, these forward-looking statements can be identified by the use of forward-looking terminology such as "plans", "anticipated", "expects" or "does not expect", "is expected", "budget", "scheduled", "estimates", "forecasts", "intends", "anticipates" or "does not anticipate", or "believes", or variations of such words and phrases or state that certain actions, events or results "may", "could", "would", "might" or "will be taken", "occur" or "be achieved". InterRent is subject to significant risks and uncertainties which may cause the actual results, performance or achievements to be materially different from any future results, performance or achievements expressed or implied by the forward looking statements contained in this release. A full description of these risk factors can be found in InterRent's most recently publicly filed information located at www.sedar.com. InterRent cannot assure investors that actual results will be consistent with these forward looking statements and InterRent assumes no obligation to update or revise the forward looking statements contained in this release to reflect actual events or new circumstances.
The TSX has not reviewed and does not accept responsibility for the adequacy or accuracy of this release.
Contacts
Mike McGahan
Chief Executive Officer
Tel: (613) 569-5699 Ext 244
Fax: (613) 569-5698
e-mail: mmcgahan@interrentreit.com
Brad Cutsey, CFA
President
Tel: (613) 569-5699 Ext 226
Fax: (613) 569-5698
e-mail: bcutsey@interrentreit.com
Curt Millar, CPA, CA
Chief Financial Officer
Tel: (613) 569-5699 Ext 233
Fax: (613) 569-5698
e-mail: cmillar@interrentreit.com
Story by: Business Wire