Instead of a new multibillion-dollar campus, Microsoft is investing $500m into affordable housing in the Seattle area.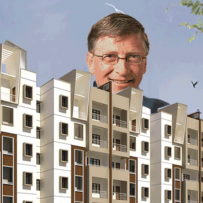 Microsoft pledged to invest $500m in building affordable housing units near its headquarters in the Seattle area. Like other tech hubs, Seattle has struggled to build enough CrossFit studios for new residents and enough affordable housing for existing residents.
To accommodate growing workforces, other tech giants have simply built private city centers (in the form of multibillion-dollar campuses) and private transportation systems. But Microsoft is trying a different approach — investing in the city that was already there.
This city ain't got enough Wi-Fi for both of us Seattle is the rain-soaked poster child for tech's housing problem: The influx of Microsoft's 42k employees and Amazon's 25k employees has caused home prices to nearly double in the past 8 years.
A December report indicates that the Seattle area needs 156k more affordable units to put roofs over all its heads.
To address the problem, Microsoft will invest in housing that even non-Microsoft employees can afford — spending $225m on middle-income housing, $250m on low-income housing, and $25m on homelessness over the next 3 years.
An innovative solution to homelessness: Homes
Many other tech giants have also disrupted local real estate markets: Amazon in Seattle, Salesforce in San Francisco, and Google and Facebook in the Bay Area.
But, for the most part, these companies have chipped in relatively small amounts to help cities increase homeless services instead of decreasing homelessness itself, while prioritizing projects like the extravagant Salesforce tower or the Frank Gehry-designed Facebook campus.
Microsoft's affordable housing initiative could help the homeless… before they're homeless.
You can't have a private campus without a public square
Seattle isn't the only city drowning in highly paid tech workers: Amazon is building facilities for 50k workers in NYC and DC, Apple is creating space for 15k employees in Austin, and Google plans to create offices for an additional 12k in NYC.
As other tech companies steamroll through new real estate markets, Microsoft's initiative shows the importance of investing in a community, not just a campus.