INFOGRAPHIC: EVERYTHING YOU NEED TO KNOW ABOUT THE CANADIAN RENTAL MARKET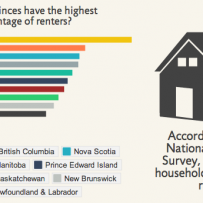 Whether you're curious as to what the rental landscape looks like coast-to-coast or you'd like to  compare how your portfolio is performing in another part of the country, this handy new infographic from BuzzBuzzHome will answer some of the questions you might have about the Canadian rental market.
Check out the cross-Canada comparisons of everything from vacancy rates to deposit rules. Prices and vacancy rate stats apply to purpose-built apartments only. Play around with the fully interactive charts to see how your corner of the country stacks up.
(*Charts may require longer loading time)
Story by: Monika Warzecha