Inclusionary Zoning Legislation Passes Into Law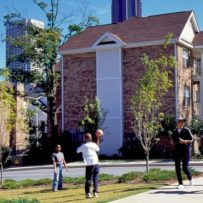 The Ontario legislature has passed Bill 7 into law, the Promoting Affordability Act, which includes the enabling provisions to give municipalities the option of requiring affordable housing units as part of new residential developments. While this new legislation does not require Ontario municipalities to require developers to offer rental units, condos, or houses at less than market level, it is expected that some municipalities such as Toronto would give serious consideration to making use of these new provisions.
FRPO, along with BILD and the Ontario Home Builders Association, have all lobbied against bringing inclusionary zoning to Ontario, as the experience in other jurisdictions where this has been introduced has been far from successful. One of the identified key requirements for inclusionary zoning programs in other jurisdictions is a significant amount of government investment in incentives to encourage developers to build under these conditions. The current Ontario plan does not identify any targeted funds to provide incentives to developers.
While the legislation has now passed third reading and awaiting Royal Assent, many of the details of how the municipal program would work will be determined through regulation. Consultation on the regulation package is scheduled for the spring of 2017, with expected passage of the regulations for some time later next year.
FRPO recently appeared before the Standing Committee on Social Justice who held the public consultations on Bill 7 – a copy of our submission can be found here.
Highlights of what was ultimately passed in Bill 7 include the following:
Municipal participation in inclusionary zoning requirements is optional and at the discretion of each municipal council
Appeals of inclusionary zoning official plan policies and zoning by-laws to the Ontario Municipal Board (OMB) will not be permitted except by the Minister (of Municipal Affairs). Appeals would still be permitted for typical zoning matters (building height, density) even when used as incentives for inclusionary zoning.
Municipalities will not be permitted to accept cash in lieu of affordable units (which FRPO argued for)
Municipalities may allow for affordable units to be located on another site (subject to criteria set out in regulation
Despite FRPO's objection, the government amended the legislation to allow a municipality to use its authority under Section 37 of the Planning Act on developments that are also subject to inclusionary zoning requirements. While the amended legislation does go on to say that the use of Section 37 provisions would be "subject to the prohibitions or restrictions contained in the regulations", we have no indication at this time as to what any prohibition or restriction might apply to the use of Section 37.
The regulation package set for consultation in early 2017 are expected to address matters such as:
A threshold size for residential development projects that would trigger when inclusionary zoning applies
Specifying that inclusionary zoning units would be maintained as affordable for a certain number of years
Rules that would set out the percentage of total units in a residential development project required to be affordable under inclusionary zoning
We will continue to be engaged in the future consultations regarding these regulations, as well as provide the government with additional information where this new provision has negatively impacted the prospect for new rental housing units to be built.
The Real Issue Is A Lack Of Adequate Supply
FRPO has repeatedly presented our position with government that policies and schemes that attempt to artificially lower rents in the marketplace will be ineffective, and not provide the assistance to families who need it most. We have long advocated that building more rental housing will in fact create more affordable housing. The issue is about a lack of sufficient supply, not a need for more government programs that act as a disincentive to building more purpose-built rental housing.
FRPO will continue in its advocacy efforts with government officials to offer better, more effective policy options that will promote the building of more rental housing in the province.
For further information, please contact:
Scott Andison 416-385-1100 ext 20, sandison@frpo.org
Kristina Lauesen 416-385-1100 ext 21, klauesen@frpo.org