In Morneau's fall update, corporate Canada awaits competitiveness plan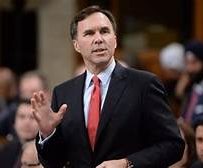 Competitiveness.
If there's been a single issue for Canadian business leaders to rally around this year it's that one – and more specifically losing their competitive advantage with our largest trading partner, the United States.
As U.S. President Donald Trump's administration slashed the corporate tax rate from 35 to 21 per cent and accelerated how quickly U.S. companies can write-off most equipment, attention turned to Ottawa for a strategic response from Justin Trudeau's Liberal government.
From Royal Bank of Canada CEO David McKay to Suncor Energy Inc. CEO Steve Williams, there has been a chorus of Canadian executives warning that the country is falling behind other nations in attracting foreign investment amid regulatory uncertainty and U.S. policy changes.
On Wednesday, Finance Minister Bill Morneau is set to deliver the fall economic statement – and the minister has the full attention of corporate Canada.
"We're cautiously optimistic," Goldy Hyder, president and CEO of the Business Council of Canada, told BNN Bloomberg in a recent interview when asked about Morneau addressing competitive concerns in his economic update.
For his part, Morneau says he has "heard about the importance of being able to make investments on a competitive basis," and is vowing to deal with "some of those anxieties."
In the run-up to Ottawa's fiscal update, BNN Bloomberg asked business leaders and economists what they want from the plan, and here are some of their responses:
The fall economic statement "definitely needs to address the corporate tax-rate gap first and foremost – nothing else matters nearly enough."
– David Rosenberg, chief economist and strategist, Gluskin Sheff + Associates.
"What many Canadian businesses have worried about over the last year or so is the corporate tax reductions in the United States … At the same time there was an accelerated depreciation on capital the U.S. put into place and that's causing competitiveness issues… and a lot of concern on this side of the border."
– Peter Hall, chief economist, Export Development Canada
"I will tell you, given we operate around the world and we have choices as to where we want to deploy our next $100 million of capital – we have choices and the tax rate does matter."
– Dean Connor, president and CEO, Sun Life Financial
"In terms of things that could really start to make it better, a lot of people are talking about taxation. Canadian companies had an advantage relative to taxation, which they needed because of a lot of the other challenges. I think there are opportunities there to really hit productivity square-on."
– Ian Dundas, president and CEO, Enerplus
"This is not some selfish agenda, this is about Canada… It's a very, very competitive global environment for capital and if we can't attract it it's Canadians who suffer at the end of the day."
– Goldy Hyder, president and CEO, Business Council of Canada
"We'd like to see the government at least commit to getting back to balance. Every deficit … is really taking fiscal room away from governments in the future if we really need it. When we have the next recession, we're going to need that kind of stimulus room."
– Ted Mallett, chief economist, Canadian Federation of Independent Business