IN BARRIE'S 'RED-HOT' HOUSING MARKET, MOST SECOND SUITES ARE NOT 'AFFORDABLE'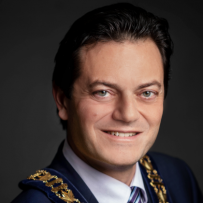 Barrie's growing need for affordable housing will not be solved solely by the second-suite market, says Mayor Jeff Lehman.
"The issue is that most second suites are not renting at a price that is helping those in severe housing need, where the need is often most serious," he told BarrieToday. "At this point, I think we need to turn our attention to those in deepest need by focusing on building more supportive housing, and/or public housing."
Lehman says there are several proposals by charities and not-for-profit organizations that will help.
"But the need is growing, not shrinking, as Barrie's red-hot housing market continues," he said.
The city defines a second suite as a standalone unit, with a kitchen and a bathroom, within the primary structure on a Barrie property — often in the basement of a house. It is often used as a rental property and is to be registered with the city.
Affordable rental housing in Barrie is defined as a unit for which the rent doesn't exceed 30 per cent of the gross annual household income for low- to moderate-income households. That income is based upon the most recent Canada Census statistics for Barrie, which are updated every five years.
The latest city figures on maximum market rents, including utilities, for second suites in Barrie, Innisfil and the townships of Springwater and Essa are $871 a month for a bachelor unit, $1,161 for a one-bedroom, and $1,336 for a two-bedroom.
"If second suites are going to be part of an affordable housing strategy for either the county (Simcoe) or the city… I think we will need to consider how to ensure they are renting at an affordable price," Lehman said. "The federal government's new portable housing benefit may assist in this front, by helping low-income households with making higher priced units affordable.
"But a local solution would be to assist homeowners and tenants by providing low-cost capital or grants to offset the costs of renovations, or to allow rent supplements to be applied against the costs of renovations to provide more lower-cost second suites."
The city uses a number of methods to encourage affordable housing; last year, it handed out almost $1.8 million in affordable housing grants, it has lifted restrictions on second suites in the Georgian College area and there's a 10 per cent goal for affordable housing in new residential developments.
Lehman also noted that second suites have not, and are unlikely to, transform Barrie neighbourhoods; the numbers just aren't there.
The mayor said there are about 55,000 dwellings in Barrie, of which about two-thirds are single detached dwellings. With approximately 1,500 second suites, that's only three per cent of all homes, which means on a street with 30 homes, there's only one second suite on average, Lehman said.
"I'm sure there remain many that are unregistered, but my point is that even with an increase in the number of second suites, the overall impact should remain small," he said. "If we continue to carefully regulate them, I believe we can protect the character of existing neighbourhoods even if some owners choose to add second suites."
Affordable housing is a range of housing types allowing families and individuals, of all income levels, to find suitable places to live without spending a disproportionate percentage of their income on housing. Affordable housing can include ownership, rental or subsidized housing.
Barrie's affordable housing strategy is designed to encourage, stimulate and increase the supply and range of affordable housing options to meet the needs of residents of all income levels, at all stages of life. Its goal is the construction of 600 affordable housing units in Barrie, aligned with Simcoe County's 10-year affordable housing plan that allocates the need for 840 units in Barrie, of which 252 are geared to subsidy by the county, to the year 2025.
By 2019's end, the city says 778 of those 840 units have been created; the 778 includes the 252 county units. This breaks down to 134 affordable units created in 2018, all second suites, and 203 units created in 2019. Figures for 2020 will be available in early 2021.
As of June 2019, approximately 3,500 people were on the centralized wait list for social housing in Simcoe County.
Story by: Barrie Today