Improving Living Conditions in Rental Apartment Buildings – Program Review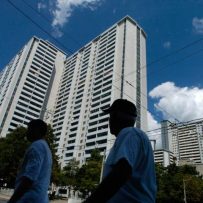 Overview
The City is seeking input from the public on creating a new program to improve living conditions in rental apartment buildings.
The goals of the program are to:
Improve access to information
Increase tenant engagement
Promote best practices in building maintenance
Strengthen enforcement
The proposed program includes the current building audit program, new requirements for landlords as well as website improvements to provide more information to the public on rental housing in Toronto.
Phases of the review
Phase 1 – Research & Analysis – June to August 2016
Phase 2 – Public & Stakeholder Consultations – August to September 2016
Phase 3 – Present report to:
Tenant Issues Committee – November 2016
Licensing and Standards Committee – November 30, 2016
City Council – December 13-15, 2016
Phase 4 – Communication & Implementation of New Program – 2017 (pending City Council decision)
Which properties are included in this program?
The program would include all rental buildings that have three or more storeys and ten or more units.
What will the new program look like?
The goals of this program and the proposed requirements for landlords are described in the table below.
GOALS
NEW REQUIREMENTS FOR LANDLORDS
Improve access to information and tenant engagement

Develop notification plan
Create service request process
Submit property information

Promote best practices in building maintenance
Develop:

Waste management plan
Maintenance plan
Cleaning plan
State of good repair capital plan

Strengthen enforcement

Submit to regular inspections with MLS
Comply with applicable regulations
Be subject to a higher range of fines
The proposed program will also include:
A website to provide property information to tenants and landlords
The existing proactive building inspection program
What are the fees associated with this program?
The City is exploring a few options, including,
Annual licensing fee OR,
Annual registration fee and additional fees for inspections/audits, if required.
Why is the City exploring these new requirements?
Currently, Municipal Licensing & Standards responds to tenant complaints and carries out building audits in potentially high-risk buildings to ensure tenants have a safe, secure and decent place to live. This approach, however, is not always helpful in finding poorly maintained buildings and making sure they remain in good condition over time. The City also lacks the information to evaluate the present state of rental housing in Toronto.
Is the City considering licensing rental apartment buildings?
The City is exploring the strengths and weaknesses associated with developing a licensing by-law or a regulatory by-law to impose additional requirements on rental properties. We will present a report on our recommendations at the Tenant Issues Committee and Licensing and Standards Committee in the fall of 2016.
For questions and schedule visit: http://www1.toronto.ca/wps/portal/contentonly?vgnextoid=be95b8252b906510VgnVCM10000071d60f89RCRD or contact:
Joanna Duarte Laudon, Senior Policy and Research Officer
Phone: 416-392-6074
Email: jduarte@toronto.ca
Amy Buitenhuis, Senior Policy and Research Officer
Phone: 416-392-5129
Email: abuiten@toronto.ca
Policy and Strategic Support
Municipal Licensing & Standards
City of Toronto, Toronto City Hall
100 Queen Street West, 16th Floor, West Tower, M5H 2N2