Identifying your target Market
Story by: Brittany W. Boyce | Rent.com
It's important to know your target audience, so that you can effectively market your community. A recent ForRent.com survey uncovered insights into seven personas of renters.
1. College Students

2. Early Workforce: Whether you already market your property to millennials or if you are just hoping to expand your target demographic, there is plenty you can learn about those in the early workforce, ranging in age from 18-30.
3. Aspiring Homeowners: Range in age from 28-35 and consist primarily of young families who have an intention on future home ownership. They may choose to rent in order to save for a future home purchase.

4: Transitional Adults: Ranging in age from 30-55, often consisting of adults who may have children, but don't have any living in their household. They may be military couples, divorced individuals, relocating for work, or on a short-term corporate assignment.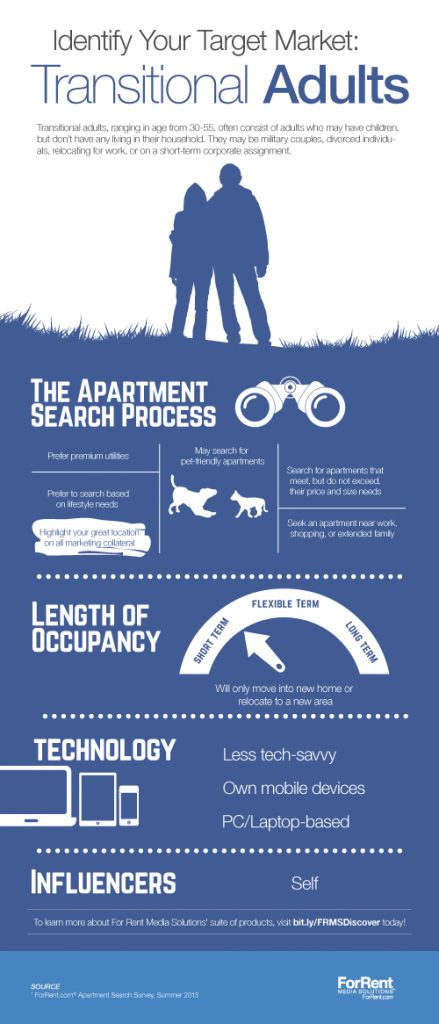 5. Lifestyle Renters: This group ranges in age from 30-55 and rents by choice – the lifestyle and independence it affords them is the most important factor.
6. Low-Rise Living: Consists of those 18 and up, single parents and families who consider themselves 'lifetime renters.' They are generally not in a financial situation to buy a home, and will not be in the future.

7. Empty Nesters: This group often consists of retirees who are downsizing into their last independent home.