Identifying Renter Behaviour and Website Success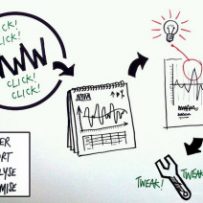 Sifting through the data collected from all your marketing efforts can be overwhelming. While it's great to track engagement, website visits, conversions, and all other things renters might be doing when they view your listings and website, that's a lot of information to process. Ultimately, you want your data to help you make smart business decisions, so here are some important questions to ask as you examine your data to extract meaning from all those numbers.
What are prospective renters doing on your website?
It's important to know which pages on your website get the most visits by renters. Get familiar with renter behavior on your website so you can cater to their needs. Do a large number of visitors land on your "tips for apartment hunting" page, or listings page for a specific neighborhood? Knowing what pages renters visit the most often on your website will tell you what you're doing right – take the information and build on it, whether that's setting goals for the next quarter or figuring out what content you should create.
Which marketing channel is the most effective?
Look at your referred traffic to find out how prospective renters are landing on your website. Are they finding your business through Yelp, Facebook, Pinterest, or listing on Yahoo! or HotPads? Once you identify which marketing channels give you the best returns in terms of traffic and click-through, use that information to help you decide where to invest the most effort.
Is your information helpful?
Look at the number of pages per session and average session duration. If visitors click out of your page only a few seconds after opening, it's a telltale sign that they're not finding the information helpful. You want prospective renters to be browsing your site and looking through all the listings, so low numbers may be a sign to improve the quality of information on your webpages.
Where are renter conversions coming in from?
As prospective renters peruse your site, which pages see the most conversion? Track all of your call-to-actions (CTAs) so you know which ones see the most clicks and conversions. You can use tracking codes on each one to differentiate between the CTAs you place on the top, right side, or bottom of your webpages. Use the data to identify the placements – and pages – that get the best conversion and click-through rates.
Lots of data can get overwhelming, but if you know the relevant information to look for you'll be able to make quick, data-based decisions to grow your success. Identify the performance indicators for your business, and use your data to answer those questions.
Story by: Jennifer Chan