IAIN RANKIN WILL BE NEXT PREMIER OF NOVA SCOTIA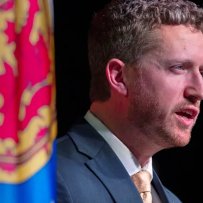 Iain Rankin will be the next premier of Nova Scotia.
Rankin was elected following a vote by Nova Scotia Liberal Party delegates, with the results announced Saturday night during a virtual convention.
He defeated fellow former cabinet ministers Randy Delorey and Labi Kousoulis. Delorey was dropped following the first ballot after earning the fewest points.
About 97 per cent of the 8,100 delegates cast a ranked ballot.
"It's a monumental task and I'm up for it," Rankin told reporters.
He instantly becomes leader of the Nova Scotia Liberal Party and is now premier-designate. Stephen McNeil remains premier of the province until Rankin and his cabinet are sworn in, likely in a few weeks, although Rankin could not say for sure when he expected an event to take place.
Plans for a greener economy
At 37, Rankin was the youngest of the three candidates and he positioned himself as a candidate for generational change.
Much of his policy was framed around the environment, with Rankin pledging to form an economic recovery from the COVID-19 pandemic rooted in green policies. He believes that resonated with voters.
"Obviously, younger people want to see action on a number of files that I spoke to, but the Liberal Party has always been a pragmatic party and one that really valued social progress," he said.
Rankin said that won't come at the expense of good fiscal management; now, he said, it will be done through a green lens.
Rankin has pledged to get the province off coal and increase the use of renewable energy sooner than commitments established by McNeil's government, and make Nova Scotia the first province in the country to be net carbon neutral.
He has also promised to implement the recommendations of the Lahey Report on forestry practices, which would see a drastic reduction in clear-cutting.
A premier for everyone
He dismissed suggestions that he was particularly different than McNeil, whom he said "has shown more political courage than any premier in our history."
Instead, Rankin said his plans are simply an evolution of things McNeil started and reflect things people want now, including confronting systemic racism.
"[People] want to see action on climate change. They want to see us continuing down the path of righting historic wrongs," Rankin said. "[McNeil] believes in those things, too, and I'm just proposing that we start taking those steps forward together and the party, I think, by and large, wants to see action in those areas."
During his acceptance speech, Rankin acknowledged it was Liberal delegates who put him in the position to become the next premier and he pledged to be a voice for everyone.
"Whether you're a union member or a business owner, whether you live in downtown Halifax or in a rural community, whether you work in an office or on the land or on the sea, or you are a student or are retired, I'll be calling on your skills, your experience and your expertise to guide our decisions," he said.
Next steps
Rankin inherits a province with a low COVID-19 case rate but a massive deficit as a result of the pandemic.
With mass vaccinations not expected before the fall and the province's vital tourism sector already bracing for another down year, Rankin has acknowledged that efforts to tackle the deficit must take a backseat to keeping as many small businesses above water as possible.
He said his top priority would be meeting with Chief Medical Officer of Health Dr. Robert Strang to discuss the province's pandemic response. Rankin pledged to follow McNeil's example of allowing the advice of Public Health, not politics, to take precedence in making decisions.
He also plans to speak with Kousoulis and Delorey on Sunday to discuss what role each will take in his cabinet, as well as opposition leaders to see what areas of common ground there are ahead of the spring sitting of the legislature.
Between then and now, a budget and throne speech also have to be finalized.
McNeil says goodbye
Rankin declined to discuss his transition plans, but said more news on that would be coming soon.
Bringing Kousoulis onside will be particularly important as the party works to achieve a unified front ahead of the next provincial election. On the second ballot, Rankin received 52.4 per cent of the points to Kousoulis's 47.6 per cent.
Saturday's event also included a tribute video to McNeil's time as leader of the party and premier. He announced last summer that he would be stepping down and not re-offering in the next election.
During his own address to the convention, McNeil talked about the importance of party members coming together quickly following the result and said the next 48 hours would be crucial.
"We've never been in a better position to grow, to take off, to launch," McNeil said.
Story by: CBC