Hydro One's next CEO faces government risk, lower pay: Expert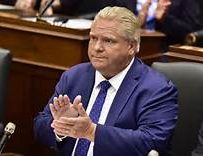 What should the new Hydro One (H.TO 1.79%) chief executive expect in their new role?
According to one expert on executive compensation, the utility's next leader should be prepared to run a company fraught with potential government interference and risk, a salary package below the industry standard – and the opportunity to run one of North America's biggest electricity distributors during a period of intense consolidation.
The abrupt retirement of former Hydro One CEO Mayo Schmidt and resignation of the company's 14-member board on Wednesday left a leadership vacuum that will place any incoming appointees under an intense spotlight, said Peter Landers, partner at Global Governance Advisors. Ontario Premier Doug Ford overhauled the company's board after pledging in his election campaign to reduce electricity prices in the province, while specifically taking aim at Schmidt's $6.2 million annual salary package.
The Hydro One CEO "role is one that has a lot of definite government risk that a few years ago wasn't as prominent. That's something that any new CEO coming into the role needs to be aware of," Landers said in a phone interview with BNN Bloomberg.
"There definitely seems to be more activism in terms of getting involved and that's a risk that any potential CEO is going to have to weigh on their decision making if they want to take the role."  
Hydro One's new board is expected to be named by mid-August, with the province nominating four directors and another six by an ad hoc committee comprised of the company's other top shareholders. The new board of directors will also be responsible for selecting a new chief executive.
Landers said given Hydro One's unique ownership composition – where the province owns 47 per cent of the company while the rest belongs to institutional and retail shareholders – the new board will quickly have to determine whether it wants to abide by a public- or private-sector pay philosophy for the CEO. 
Currently, compensation for similar public sector executives is likely below the $6.2 million that Schmidt earned, Landers added. And while this could be a way for Ford to justify a lower salary for the next Hydro One CEO, Landers said offering compensation at that level could make the recruitment process challenging if the company competes for talent alongside its private-sector peers.
Promoting someone for the top role is a likely bet as research has shown that promoting from within costs less than recruiting from outside in terms of salary, as well as saving on hiring an external search firm, Landers said. A salary package totaling around $3 million, similar to what the current Hydro One CFO and COO make, should be what the new CEO should expect to retain, he added.
"If the goal of the government is to control costs, one good option might be to try to look at someone who already has the capabilities and the experience internally," he said. "It's not just hiring someone just because they cost less. They still need to do an effective job of running the company."
Still, running Hydro One should be viewed by candidates as an opportunity to run one of the biggest energy utility companies in North America and shape the future direction of the company, Landers said.
"There are a lot of creative challenges in the role such as figuring out how to stop rising costs and keeping a hold of electricity rates so they don't skyrocket out of control," he said. "There's also the opportunity to do some public good with the ability to provide solid returns and dividends back to the government that would ultimately help Ontario taxpayers."