How to Turn Apartment Showings into Leases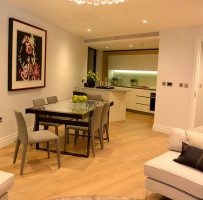 You vacancies may be flying off the books in this competitive rental market, but no matter how crazy the shopping season is, it takes work to attract high quality residents. Your interactions during and after a showing are a strong determinant in a renter's decision to sign the lease. When you meet potential residents face to face, how are you selling yourself – and the unit – during the property showing?
Help your team perform consistently and deliver a high level of customer service by establishing a game plan to stick to for every renter they meet. Structuring (not scripting) the showing will ensure that your team asks the right questions, engages with prospective residents, and gives visitors an unforgettable first impression.
Incorporate the following strategies into your showing to build relationships, engage renters, and – most of all – usher great residents into your community.
Ask questions.
Instead of giving visitors your elevator pitch and leaving it at that, engage with them and find out what they're looking for in an apartment by asking questions. See what their opinion is of the floor plan and what their must-have features are. By knowing what's important to each renter, you'll be able to personalize the conversation and emphasize the most appealing qualities of the unit.
Elaborate on the features.
Instead of listing off all the features in the unit, go a step further and explain what makes the apartment special. Relate the apartment features to how they would come in useful in a day-to-day setting. A unit with large north-facing windows will get good light, for example, or hardwood floors make for a fast cleaning job. Educate prospective residents on the finer details of the unit to help them see the benefits that aren't always apparent to the naked eye.
Inform them about other available units.
Renters will be looking for a variety of features in an apartment, and your unit might not be the perfect fit. Don't hesitate to let them know about another unit you have available if you think it would be a better fit.
Follow up.
Apartment shoppers are likely attending multiple showings before they make their final decision. Be memorable and stay at the top of mind by reaching out after your meeting. Check in to see how they liked the unit, ask if they have any questions, or tell them about other floor plans available. Many landlords and property managers may not feel the need to reach out in such a competitive rental market, but by doing so you demonstrate your attention to detail and willingness to go the extra step for your residents.
Give your showings a personal touch by structuring them around the wants and needs of prospective renters. It doesn't involve a lot of time or research – just the effort to engage renters in a conversation.
Story by: Jennifer Chan