HOW TECH CAN HELP YOU STREAMLINE YOUR WAY TO A LARGE PROPERTY PORTFOLIO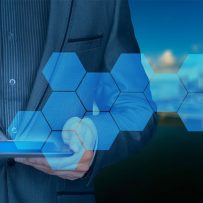 Starting small and building a property empire: that's the dream for many landlords across the world, whether they're investing in commercial buildings or securing their futures through residential rental opportunities.
Fortunately for prospective landlords with the capital to get started, technology has afforded them a number of ways to streamline this process, helping them to build a large property portfolio faster than ever before.
Let's take a look at how tech can help you streamline your way to a large property portfolio.
Proptech advancements make it easier to buy
Within the last decade, the term 'proptech' has come to define technology designed and developed with the intention of aiding the real estate sector.
These innovations have not just improved the process of selling properties for agents or formed new databases for mortgage lenders, but actively sought to simplify the process of buying for both first-time buyers and individuals who consider property their livelihood.
Proptech innovations are property solutions for the modern world, particularly one afflicted by the COVID-19 pandemic.
What does this mean for the typical landlord and their quest for a large property portfolio though? Accessibility and simplification.
Virtual property tours are one of the most common and instantly recognizable forms of proptech. This innovation has allowed landlords to view prospective properties hundreds of miles away from where they live, making informed decisions and picking up great real estate with little time and travel investment. While buying a property without first viewing it is risky, this does offer solutions for landlords looking to speed up their empire building throughout the pandemic and expand into thriving areas with hot rental communities.
It's not just 3D tours that proptech offers though. Online property portals and specialist advice have further simplified previously arduous tasks in the buying process. Whether it's platforms such as Point2Homes or an online mortgage broker such as Breezeful, essential services that once caused a major headache are now accessible at the click of a button and reduced to a step-by-step process.
More comprehensive research techniques
While virtual tours and online lenders show the impressive lengths tech can go to, research is perhaps the best way it can assist landlords in their quest towards a large property portfolio.
New digital tools along with the accessibility and scope of the internet have made it easier for prospective homeowners and landlords to do more thorough research into areas they're interested in buying in.
They can research the current renting base, get an understanding of the local population, access local amenities that might dictate the best place to buy and even get a sense of the average price through tools such as Spareroom.
Once they've put in an offer, access to local surveyors online makes the process of buying remotely safer and allows landlords to get trusted insight into their property.
Property management is simplified
It's not just the buying process that has made achieving a large property portfolio easier, but the actual management of said properties.
One of the biggest challenges landlords face is managing empty properties. While there is a high demand for rental rooms in metropolitan areas, some less popular areas may go uninhabited for months at a time. Creating a consistent cycle of tenants is easier than ever thanks to tools such as the previously mentioned Spareroom and review apps, which assure prospective tenants of the quality of home you're offering.
Perhaps the most interesting development is that of smart home devices. While not an affordable options for all landlords, you can improve the security, living standards and affordability of your homes through the use of:
Smart locks (and lockers)
Smart doorbells
Smart thermostats
Smart lights
These help drive down excessive energy consumption costs and assure prospective tenants that their future home is secured to the optimum degree.
Technological advancements have given the real estate and rental sectors a boost in many different ways. Proptech innovations appeal to the enterprising landlord as much as they do first-time buyers, while the openness of the rental system online has made it easier to build a brand and business alongside your property portfolio.
Story By: Ade Labinjo
Ade Labinjo is co-founder of Breezeful, an online mortgage broker based in Canada. Breezeful gets you the best mortgage online from start to close, negotiating with hundreds of lenders on your behalf in seconds."