How mid-rise wood buildings could make the Toronto housing market more affordable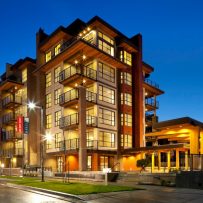 Story by:  Kat Sieniuc  |  BuzzBuzzHome
"We're up for the challenge in Ontario."
Vince Molinaro just got back from a trip to British Columbia, where he and about 40 other builders and developers from Ontario went with a mission: to find out how the province built and marketed its mid-rise wood sector.
The height limit for residential wood construction in Ontario's building code was recently upped from four to six-storeys, a change that comes into effect January 1 of next year, but has been part of the code in provinces including BC and Quebec for years.
"[It's a] form of construction that's new to Ontario, so we wanted to get the feel of it and get the specifics of the design," said Molinaro, the president of the Ontario Home Builders Association (OHBA).
With Toronto's red-hot real estate market not expected to cool any time soon, many Torontonians are left wondering if they'll ever be able to afford a condo, let alone a single-detached home, in the future. Enter six-storey wood buildings — a new mid-rise housing option that developers and city planners alike are hailing as the solution to unlocking land value on the avenues, increasing density and opening up a new affordable housing market.
"It will make it more affordable for developers to actually build mid-rise buildings," said Paul Bedford, the former chief city planner for Toronto and a professor at Ryerson. "That makes a big difference because where a project is now not economically viable, it might become viable with six-storey wood."
A report commissioned by the Building Industry and Land Development Association (BILD), and written by Bedford, estimates the average construction cost of a six-storey wood building to be approximately 15 to 20 per cent — or about $30 to $40 per square foot — less than a mid-rise concrete structure.
Common in parts of Europe like Scandinavia and the United Kingdom, mid-rise wood construction is a building trend that's been steadily picking up steam globally, and regulators in Canada are increasingly looking to permit taller wood structures.
Quebec and BC have both allowed for six-storey wood for years. Since BC amended its code in 2009, approximately 75 mid-rise wood buildings have been built, with 125 more in the works, said Molinaro.
While Ontario may be late to the game, the province is certainly trying to catch up.
"I've been amazed by the number of [OHBA] members who are reviewing all of their landholdings and trying to figure out, does this model work on that piece of land on that corner?" said Joe Vaccaro, OHBA's CEO. "I think the building solution is going to unlock a lot of value and land opportunities."
That's because many of the lots on main streets in Toronto aren't deep enough to support the weight of a tall concrete structure and the digging required to keep the building standing, said Vaccaro. Oftentimes, he said, developers sacrifice density to avoid the hassle of re-zoning or the extra expenses of making concrete work.
"There are corners where we are seeing urban townhouses pop up, where there really should be a greater amount of density on that property," he said. "You'll see [developers] settle for a less-dense housing form in the form of urban townhouses because it's just a more efficient approval process to get that from design to built out."
"Now, with six-storey wood, you have a new building tool to insert into the conversation."
And with approximately 100,000 people moving into the GTA yearly, there's still an annual demand for about 40,000 new housing units every year in the region, according to BILD.
"There are going to be pieces, parcels of land, which were restricted from good development applications either because of the size, the shape, the location of the land, that are definitely going to be unlocked," Vaccaro said. "Will it lead to more density? I think it will."
But unsurprisingly, the push to increase heights for wood structures in Canadian building codes has been met with hostility from the Cement Association of Canada, which has questioned the safety of wood towers in fire.
To that, Vaccaro says six-storey wood structures "are not single family homes on steroids."
"It is a wood building system. This is an engineered building…with the appropriate engineering approvals and inspections," he said. "I think that's just part of the process — if you bring anything into the market — is to walk people through that."
Still, the biggest challenge for developers bringing mid-rise wood to Ontario's market might be in convincing the consumer that wood is safe.
But Vaccaro isn't worried.
"[Builders] will have the support of, I think, chief building officials, and planners and designers, and engineers. So it just becomes a question of introducing the product," he said.
Indeed, for city planning experts like Bedford, mid-rise wood is "a win, win, win thing."
"This grows the market, it makes it more affordable and it embraces all of the policy and planning ideas that are in the Toronto official plan… and every other municipalities' official plan," he said.
Follow Kat Sieniuc on Twitter: @katsieniuc