HOW HAS COVID-19 IMPACTED CANADA'S STUDENT RENTAL MARKET?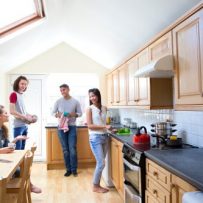 With the return to school having achieved the topic of the day status for a few weeks in late summer, real estate investors' thoughts undoubtedly turned toward the fate of the country's student rental market. COVID-19 has forced most Canadian universities to adopt remote learning models until at least the end of 2020, but is the new paradigm really leading to a decline in demand for student rentals?
Timbercreek's executive director of origination, Geoff McTait, says student rentals have, like most sectors of the Canadian real estate market, come through the worst of the pandemic with flying colours. Aside from Quebec, where the province's later leasing cycle has allowed students more time to second-guess their housing decisions before signing leases in August or September, demand for student rental units in the rest of the country, many of which were leased out in the early days of the pandemic, has remained robust as most students assumed they would be returning to class – and campus – by September.
"There was increased demand, and occupancies are actually higher in the interim this year than they were at the same time last year," McTait says.
Rather than crater demand for student rentals, COVID-19 has simply pushed that demand off-campus as colleges and universities slash occupancy levels in their student housing facilities to provide a safe amount of space for on-campus residents.
"We're talking about obsolete old buildings with shared bathrooms – circumstances that aren't set up for this COVID reality," says McTait.
But to take advantage of the new demand for off-campus student housing, McTait says investors will need to provide a new kind of unit, one that provides each resident a private bathroom and enough space to feel safely isolated. The days of the student ghetto are over.
The demand for more space, comfort and amenities was a growing trend among students even before the pandemic. Newer rental units, which are typically better designed and better built than the cramped, aging product seen on most campuses, are something international students have traditionally gravitated toward, but Canadian kids are developing a taste for something more than a tiny room with a bed and WIFI, too. And their parents, the ones footing the bill in most cases, want to know their children will be in an environment where the level of cleanliness and ability to socially distance can both be controlled.
"I think this pandemic reality will expedite this shift" toward newly built student rentals, McTait says, stressing that the health and safety demands involved make retrofits less a possibility than ground-up new builds. But the investment in new product should be met with higher rents.
"Within the context of the more highly amenitized newer product, you should see better inflation than you would see in the more conventional student ghetto-type rent," he says.
College life
Demand for student housing hinges on demand for post-secondary education. While COVID-19 has temporarily shut borders, McTait says student rental investors needn't worry about collapsing enrolment numbers. Heightened unemployment is expected to result in more Canadians returning to college or university to better prepare themselves for the next phase of their professional careers, while Canada's response to the coronavirus and overall welcoming attitude toward immigrants has it looking like a far more attractive place for foreign students to study than the U.S.
"Canada will draw more international students as borders open up and that becomes more possible," says McTait.
There is also the less tangible matter of the college experience. Even though some students, either because of a lost job that prevents them from paying rent or because of a parent's COVID-19-related financial hardships, will have no choice but to return home and study remotely, most will opt to live close to campus so they can take part in as much college life as possible.
"I think there will continue to be demand for that experience," says McTait. "You can't replace the complete university experience just by attending classes online in your parents' basement."
While there is no shortage of new purpose-built student product being developed, particularly in major markets like Toronto, Vancouver and Kitchener-Waterloo, McTait says demand is likely to outstrip supply. From Kingston, home of Queen's University, to clear across the prairies, he says investors willing to build have an opportunity to win big.
"Across the country, I think we're starting to see a little bit more appetite and demand," he says, "but students are still relatively underserved."
Story by: Mortgage Broker News