How Foreign Real Estate Investors Are Changing Canada's Skyline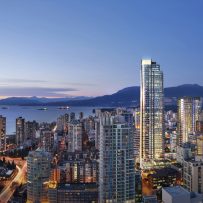 Story by: Kenneth Rapoza, Forbes 
In Toronto's entertainment district, there is a proposal to build a 50 floor luxury high rise. Toronto based real estate investment firm Watford Equity is the brainchild behind this one, still in its planning stages. When complete, it will be a one-part brand named boutique hotel with rooftop bars and infinity pool and one-part luxury condo. There will be 620 units for sale, and while 75% of the project is funded by Watford Equity, all of the money comes from foreigners, mainly China and India.
"The private equity that was injected was all foreign, predominantly from India, China and Israel. And of course the U.K., but the source of the U.K. money is really from India," said Harshal Dave, CEO of the two year old Watford in Toronto.
Toronto is the Canadian Dubai. Developers there are building 97 residential towers, more than any other city in North America, according to Emporis GmbH. It's been building like mad for much of the last five years, and there is no end in sight. Fitch Ratings said recently that housing prices in Ontario are 25% overvalued and condo market prices may decline as much as 10%. But they didn't single out Toronto.
Arik Auerbach, the principal at Watford that does most of the wooing of foreign house hunters, said despite the years-long talk of a market correction in Toronto, housing values are considered attractive by foreign investors.
"There is no way you can buy for the same prices you pay in Toronto. We are only halfway to get to the realistic value of those condos and single-family homes," he said in an interview from Tel Aviv recently.
What do foreign buyers see? They see a country that charts in the top 10 of best urban centers to live. They see they can buy middle class housing for $550 to $750 per square foot in new developments on the "center ice" of Toronto, homes for half a million dollars that would go for double that in Manhattan.
As far as luxury properties go, the luxury properties with brand names like Trump slapped by the lobby door on Bay Street are cheaper than they are in any city with decent bragging rights and caché.
Canada's housing market for investors remains stable, with risks to the upside. Land prices are one contributing factor. Locals are moving upmarket, and wealthy foreigners – in this case Chinese and Indians – are depositing cash in their adult child's bank accounts to buy real estate. Immigration into Canada is expected to have an impact on home prices for years to come. Supply is limited in the tier one cities like Toronto, contributing to double digit price increases. In March, Toronto home prices rose 10% on an annualized basis. 
Canada ranks a distant third behind the U.S. and Australia in terms of top destinations for Chinese real estate investors, but Watford's new project proves if you build it, they will come.
The same holds for Vancouver.
In January, a newly formed Shenzhen based real estate investment firm called Brilliant Circle Group acquired 232 acres of land along the waterfront in Vancouver. It was owned by Imperial Oil and sold for an undisclosed amount. Similar parcels in the area sold for under $1 million.
In a city where skyscrapers are not the norm, five new luxury residential towers are being built. According to Statistics Canada, 34,500 new immigrants are expected to settle in British Columbia this year, rising to over 45,000 in three years. Of that total, 65% will come from Asia Pacific, with the bulk of them coming from China. They'll be competing with the locals and the Americans for trophy properties.
"Our real estate market has seen a steady increase over the last 18 years with no major correction. Even in 2008, it was just a blip," said Ross McCredie, President and CEO of Sothebys International Realty Canada in Vancouver. "It all comes down to net migration of Canadians moving to Vancouver, foreign immigration and foreign ownership. There's a lot of money changing hands here."
Last year, the West side of Vancouver had around 25% to 30% foreign buyers, mostly all of them from China, McCredie told FORBES.
This number is expected to increase. As China's government allows its locals greater access to foreign markets, individuals will use those laws to diversify their holdings out of China. And for the individual investor, prime real estate in stable countries with safe cities near brand named educational institutions will sell every day of the week.
Canadian property buyers have traditionally been the incumbent buyers of real estate assets, but a growing mix of international developers from China are seeking to park capital there as well.
"A lot of our Chinese buyers have been living in Canada almost all of their lives and have businesses still in China, through family," said McCredie. "They didn't sever ties with the mainland. So what we are seeing in Canada, with the currency weaker that it has been at 80 cents to the dollar, they have had the extraordinary benefit of growth in China in the past and they are still participating in the growth in China today. A lot of that money trickles back in to real estate."
The Watford Way
Back east, Watford devised their own way to lure the Chinese and the Indians and whoever else wants a piece of Toronto through their Watford Toronto Investment Fund. The fund is closed to new investors. It is still in the due diligence stage of picking an exact site for the hotel and residence property along the waterfront in the entertainment district.
The investment is backed by the mortgage, which is being paid for by the hotel operator and property owners. Investors in the private equity fund are getting the equivalent of a long term rental payment and ownership of a specific unit of their choice. The investment structure is set up like a limited partnership. Investors own a stake in the building; and it is a building they can live it. Their shares don't get diluted. The fund's goal is 10% returns year over year.
"For us, investors put their money in and their name is there on the title; they're the owner," said Auerbach. "When you invest your money in the fund, there is snapshot of the deal and that snapshot stays as is. If you're 2% of the deal, you will stay at 2%," said Auerbach. The fund is now closed. They're working on launching another one. No date has been set for that however. Buyers also get first dibs on the housing units for sale in the tower.
The real estate building boom continues unabated in Toronto and Vancouver, despite concerns it has long overheated, as the IMF warned in March.
"I was looking at property in Miami back in 2010 and in 2009 people were coming out to buy in cash for dirt cheap. They took a gamble on the city and in 2011 Miami was already too expensive," Auerbach said. "When I see big funds buying streets of houses for investment I know there is going to be a problem, but I don't see that in Toronto. We have a more careful approach to real estate in this city. This is not a roller coaster market. We see real value that is created over time, not over night."
If slow and steady wins the race, then that sounds like a Chinese motto if there ever was one.
As for the notion that Asians, from Mumbai to Beijing, are buying up Canada like they've done in parts of California, Jon Stovel, president of Reliance Properties, said international forces are not the only ones at play. There's room for everyone looking for future rental income.
"There is a lot of local demand here," Stovel said. For investors, the more demand, the better. It's that local demand that drives the market, and it is that local demand that makes property investing for foreigners in Toronto and Vancouver more enticing despite bubble fears.