HOW FOCUSING ON THE 'MISSING MIDDLE' WILL IMPROVE HOUSING AFFORDABILITY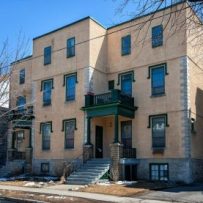 The COVID-19 crisis is front of mind for all of us – but another emergency has been simmering for years: a shortage of affordable housing across the city. That problem has reached a crisis point where even mid-income households can have enormous difficulty finding a place to live. City council declared a housing crisis and emergency in January to help keep focus on this issue, and while we've had to turn attention to the pandemic, we still need to find ways to procure more housing.
Unlike the pandemic, there's an obvious fix for the housing affordability crisis. Unfortunately, the quickest and simplest solution is to invest significantly in building more affordable housing units. And while we're committed to that approach – investing $30 million in new units in just the past two years alone – the city only has so much money to go around.
Beyond such investments, municipalities have few options to impose affordability. Our legislative powers are limited, which is why I'm pleased to see a report coming up for discussion at next week's planning committee – a report that could make it easier for property owners to build new eight-to-12-unit apartment buildings in Ottawa's inner-urban communities.
The fact is, one of the biggest causes of our housing affordability crisis is the inadequate supply of small apartment buildings. We've termed these buildings Ottawa's "missing middle" and the report – Phase 2 of the R4 Zoning Review – aims to fill that missing middle by encouraging new low-rise apartments and gradually building up the city's supply of affordable apartments.Ottawa's urban planners are proposing changes to the city's zoning bylaw, specifically the rules that govern development in Residential Fourth Density (R4) zones. That's Ottawa's most intensive set of low-rise residential zones and it covers many of our most established inner-urban neighbourhoods, including Centretown, Sandy Hill, Vanier, Overbrook, Hintonburg and Westboro.

The changes would affect the R4 zones in the city's inner-urban wards. The thing is, low-rise apartment buildings with four or more units are already permitted in these areas, so these changes might seem unnecessary. The catch is that there are several outdated or inappropriate rules currently in place that deter or even prevent apartments for being built.

Take minimum lot sizes, for example. Right now, the rules require lots to be a certain size before you can build an apartment there. But that minimum size is too big – much bigger than needed to develop a perfectly functional apartment building. As a result, we wind up limiting where apartments can be built. In some R4 neighbourhoods, apartments wouldn't even be allowed on 95 per cent of lots!
That's too restrictive, and it needs to change if we are to build up our missing middle.Here's another example. Some R4 zones now have a strict, four-unit cap on the number of apartments permitted within a building. There's no compelling reason for the cap and it just restricts density. A builder can develop a big enough building to accommodate up to 12 apartments, but the cap means they instead build a smaller number of large units. That drives up the cost of each unit and doesn't provide enough housing, even for those who can afford the rent.

You can watch a short, animated video about R4 zoning at ottawa.ca/R4video but essentially, with small changes to the existing rules, we can encourage more infill in these existing communities. Of course, that might cause concern for existing residents, but the proposed changes do protect the character of those communities.

Most notably, the changes generally don't alter the size of the buildings already permitted in the R4 zone. Under the revised rules, from the outside, new buildings would look largely the same as they would under current rules. The amendments would simply allow more density, encouraging eight to 12 apartment units within the same building envelope that's already allowed.

Beyond that, the amendment we're considering also provides clear direction about required design considerations, to help ensure new buildings have a look that's consistent with the existing streetscape.
A few small changes now offer a big promise over the coming years: a significant increase in new low-rise apartments to better accommodate the growing number of residents who want to live in established inner-urban, low-rise communities. And ultimately, that growth in Ottawa's supply of apartments would help improve housing affordability.It's one step on a long journey, but without a major influx of cash to pay for new affordable units, this slow and steady approach is a valuable way to keep us moving towards ending the affordable housing crisis.
Story by: Ottawa Citizen