How Clay Riddell's 'fun journey' helped shape a Canadian energy empire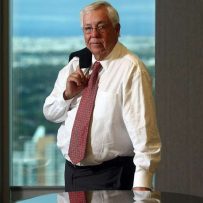 After more than half a century in the energy business, 80-year-old billionaire Clayton Riddell has just cemented his legacy among the great Canadian oil and gas tycoons.
Paramount Resources, the Calgary-based company he founded nearly four decades ago, announced late Thursday it would spend nearly $460 million in cash acquiring assets from Apache as the international energy player completed its Canadian exit. The company also took the wraps off an all-stock takeover of Trilogy Energy, another Calgary-based oil and gas producer controlled by the Riddell clan. Clayton's son, Jim Riddell, is CEO of both Paramount and Trilogy.
"I don't think I've ever thought about legacy," Riddell told BNN in a May 18 interview, the day he was formally inducted into the Canadian Business Hall of Fame. "It's been a fun journey. And I sort of hope the journey is not quite over."
The journey for Riddell's empire through what has been the most devastating price crash to beset the Canadian oil and gas industry in a generation has not been an easy one. In 2015, Paramount was forced to sell what one analyst described as its "crown jewel" natural gas asset in northwestern Alberta for $1.9 billion in order to pay down a hefty debt load. The company's share price had been cut in half over the course of the previous year, and many analysts were concerned for its survival at the time.
Riddell has founded 10 energy companies over the course of his career and – much like fellow Canadian energy mogul Murray Edwards – has also tied himself to another Calgary institution via his partial ownership of the Calgary Flames NHL franchise.
"I always tell people that I started several small oil companies because I wasn't smart enough to run a big one," Riddell told BNN in May.
Humility aside, he will have no choice after the Apache deal closes.
Paramount and Trilogy have a combined market value of roughly $2.6 billion. Assuming the $459.5 million paid for the Apache assets adds an equivalent amount to the market cap, Clayton Riddell will chair a company run by his son Jim that is worth more than $3 billion.