How can Ottawa tackle affordable housing and homelessness?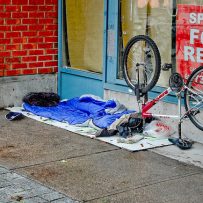 Story by: Carys Mills | Ottawa Citizen  
More than 10,000 Ottawa households waited for affordable housing last year, facing an average of almost five years on a waiting list.
The waiting list, which grew 3.8 per cent since 2012, was outlined last week by the Ontario Non-Profit Housing Association's report on rent-geared-to-income spots. The growing wait has added to calls for the next city council to take further steps to boost affordable housing and tackle homelessness municipally, as well as advocating for more money federally and provincially.
Jim Watson's first campaign promise is a good start, says Michael Shapcott, director of housing and innovation at the Wellesley Institute, a Toronto-based non-partisan think tank on urban issues. If re-elected as mayor next month, Watson says he'll add $2 million annually to a housing and homelessness fund and aim to reduce emergency-shelter use by 15 per cent in five years.
But a grander vision could accomplish more, Shapcott says.
"There's not one solution that's going to meet the range of housing needs. What the mayor needs to do is enlist a whole series of experts," Shapcott says, adding that includes planning and financial gurus.
"Ottawa has all the forms of expertise that are necessary. What's really been lacking and continues to lack is the visionary leader who says: 'Let's pull everything together and set some bold objectives and let's go for it.' 
Big picture
A year ago, city council approved a 10-year housing and homelessness plan with three main, huge goals: make sure everyone has a home, get people support and bring together the more than 130 organizations involved.
"The city is doing a lot of the right things," says Ray Sullivan, executive director of the non-profit housing organization Centretown Citizens Ottawa Corporation. "What they're looking at is transforming the system so instead of spending a lot of resources on supports for people who are homeless, moving those resources to actually housing those people."
There's been progress — since 2010, for example, there's been an 18-per-cent decrease in the number of families needing emergency shelter  — but Sullivan says it's important to remember people living in shelters are "the tip of an iceberg."
A broader approach is needed to look at affordable housing, Sullivan says, suggesting one simple way would be to add an "affordable housing implications" section to reports going to city council's committees. "What's the implication on housing affordability if we rezone this building to 25 storeys? If we locate a transit stop over here? If we rezone this farm as residential? Those are the kinds of things that citywide have a huge impact on housing affordability," he says.
Set realistic goals
Each year, Ottawa aims for one-quarter of new homes to be "affordable." Last year, the city determined that was a home costing up to $247,924. But only 10.1 per cent of new homes were actually within that range.
"We've never come close to meeting (the goal)," says Ottawa Alliance to End Homelessness executive director Mike Bulthuis. "It hasn't played out to be realistic. So maybe the question is, what are the barriers to that happening? How do we either make it realistic or what would a realistic target be?"
Planning chair Coun. Peter Hume says there would be backlash if the city tried to reduce its targets. "The advocacy community would never allow us to change that goal," Hume says. "Even though we could never meet it."
But Bulthuis says talking about the target could start a productive conversation between the city, developers and community services about how to build more affordable housing together.
Bring developers to the table
When developers want to build extra-dense or tall apartments or communities, a section in Ontario's Planning Act lets municipalities negotiate community benefits in exchange.
Shapcott calls "Section 37″ one of the most important tools cities have now to get affordable housing within new developments. The flaw, he says, is it's rarely used for housing instead of amenities like parks. "Section 37 everywhere in Ontario, including Ottawa, has been distinctly underwhelming in terms of its ability to deliver affordable housing," Shapcott says.
One example of the idea working well, according to Shapcott, is a Toronto waterfront condo that will have 80 affordable rental units for artists, in partnership with a not-for-profit. In Ottawa, $800,000 has been secured for the creation of affordable housing units through Section 37 agreements since 2012. But no units have been built so far, John Moser, general manager of planning and growth management, said in an email.
Shapcott says the idea could also be pushed further. "In the United States, they've moved beyond the kind of 'Let's-make-a-deal' mentality of Section 37 and they've said there are fixed rules," he says, referring to "inclusionary zoning," which sets mandatory percentages of below-market priced homes for developers.
Shapcott says he approached Watson years ago, when the mayor was minister of municipal affairs, suggesting Ontario should adopt such zoning. "Unfortunately he chose not to when he was minister and now as mayor he's suffering," Shapcott says, adding Watson could publicly push the province to change the legislation now.
More money
The extra $2 million per year Watson is promising would add to the city's existing $14-million "housing and homelessness program,"  one of many budgets going towards housing and homelessness initiatives.
Extra funding — focused on more rent supplements and housing allowances, community supports to prevent homelessness and repairing existing housing units — would come from "uploads" the province directs to the city towards social services previously handled by Queen's Park.
Bulthuis says an extra $2 million next year is a good start. But he questioned whether the increase could grow each year with uploads, which are expected to increase by almost $5 million annually until 2018. Sullivan raised the same question. "It strikes me that there's an opportunity to expand beyond that $2 million," Sullivan says.
Smaller steps
Having a plan spanning a decade is good for long-term goals, Bulthuis says, but he'd like to see some more focus on short-term goals that regular citizens can wrap their minds around.
"Let's not just suddenly get to 2023 and finally figure out whether we've made it or not," he says, adding short-term goals can give communities something to rally around, pointing to a 100-day challenge in Salt Lake City to house 100 homeless veterans.
"It kind of became this civic-building project," Bulthuis says.
Joanne Lowe, executive director of the Youth Services Bureau, says she'd like the city to adopt a youth-specific policy within its housing-first framework.
George Dark, an urban designer and partner at Urban Strategies, says people often think housing problems are only for governments to solve.
"It's not. This is for everybody to solve. I think fostering as many creative partnerships as you can with all kinds of private sector, not just the development community, is a big part of the solution," Dark says, pointing to a Habitat for Humanity in Toronto partnering with condo developers.
In Ottawa, Habitat for Humanity hasn't moved its model to highrises and doesn't receive government funding, says local chief executive officer Alexis Ashworth. The group works with low-income families living in inadequate housing, to build homes that are paid for based on income.
Ashworth says she's worried, partially based Watson's pledge, that there isn't much support for affordable home ownership.
"I'm a bit concerned to see that (Watson's pledge is) mostly geared towards rental and homelessness, which is obviously a valid cause," Ashworth says. "But it's not taking people out of social housing and allowing them to become home owners and truly breaking that cycle of poverty."