HOUSTON APARTMENT OWNER LOSES 3,200 UNITS TO FORECLOSURE AS MULTIFAMILY FEELS THE HEAT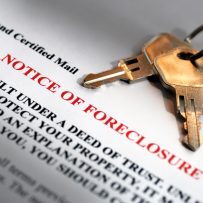 An apartment-building investor lost four Houston complexes to foreclosure last week, the latest sign that surging interest rates are beginning to upend the multitrillion-dollar rental-housing market.
Applesway Investment Group borrowed nearly $230 million to buy the buildings with more than 3,200 units as part of a Texas buying spree during the pandemic. Arbor Realty Trust, a publicly traded mortgage company, foreclosed on the properties after Applesway defaulted on the loans, according to public documents filed in Harris County, Texas.
New York-based investment firm Fundamental Partners bought the Houston properties, public records show, for an undisclosed amount.
Turmoil in commercial property markets is starting to spread beyond urban offices and aging shopping malls to rental apartments. The multifamily sector has long been considered a relatively safe investment, especially when home prices rose so much during the pandemic and forced many home shoppers to keep renting.
Landlords have benefited from surging apartment rents and cheap debt in recent years, which pushed property values to record highs. Investors paid high prices for the buildings in part because they were betting on a continued rise in rents. They also considered apartments a safer bet during a recession because people always need a place to live.
Now, the recent increase in interest rates has cooled off the apartment sector. Investors who bought properties at the peak of the market in 2021 often financed those deals with floating-rate mortgages. Many of those loans have reset at higher rates.
Real-estate analytics firm Green Street estimates that apartment-building values are down more than 20% from their peak. Meanwhile, rent growth is slowing, meaning some buildings with sizable, floating-rate mortgages no longer generate enough profits to make debt payments.
Applesway was typical of commercial-property investors who saw big profits in the prospect of acquiring moderately priced buildings and raising rents after making certain improvements. Chief Executive Jay Gajavelli said in a video posted online that he could double his investors' money by sprucing up a lower-income apartment complex located outside central Houston, with a plan to raise rents and charge tenants extra fees for amenities.
"The property value will go up down the road," he said.
Most of Applesway's loans originated in the second half of 2021, just before the Federal Reserve began its campaign to raise interest rates. At one property, the interest rate on Applesway's loan had risen from 3.4% to around 8%, according to loan information obtained from data firm Trepp Inc. At least two of the properties were financed with about 80% debt, which is considered high leverage in commercial real estate.
Some other large investment firms have had payment issues with floating-rate multifamily loans in recent months. Veritas, a San Francisco private-equity firm, defaulted on a $450 million loan backed by rent-controlled apartment buildings, and Blackstone Group is negotiating with its lender over the debt on a portfolio of New York City apartment buildings.
A Blackstone spokeswoman said the debt is nonrecourse, meaning the lender can only pursue the properties attached to that loan. "We are focused on working with our lenders to get the best outcome possible," the spokeswoman said.
Foreclosures such as that of Applesway in Houston are rare, but they could become more common as loans come due and hedging contracts that protect landlords from rising interest rates start to expire. A record $151.8 billion in U.S. mortgages backed by rental apartment buildings are set to expire this year, and $940.1 billion are set to expire over the next five years, according to Trepp.
Story by: The Wall Street Journal