Housing Market Assessment report for Canada and 15 markets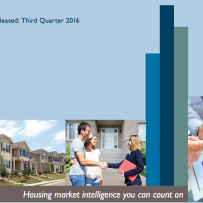 This quarterly release of the Housing Market Assessment (HMA) provides updated results:
To evaluate the evidence of problematic housing market conditions at the national level, and in 15 Census Metropolitan Areas (CMAs)
For each of these CMAs, CMHC also issues a local report with more information and analysis
To establish evidence on whether there are problematic conditions in the housing market, the HMA analytical framework looks at: overheating; acceleration of house prices; overvaluation; and overbuilding. " In CMHC's overall assessment of the housing market in Canada, the level of evidence of problematic conditions is raised to moderate from weak. In particular, CMHC now detects strong evidence of overvaluation for Canada as a whole. This national picture, however, reflects divergent patterns across the country. "
Growth in house prices has accelerated, but this growth is concentrated in the provinces of British Columbia and Ontario. This effect is only partially counter-balanced by weaknesses in the oil-dependent provinces of Alberta, Saskatchewan and Newfoundland & Labrador. By the time of the next HMA in October, growth in home prices in parts of British Columbia and Ontario may have been sufficient to provide strong evidence of problematic conditions for Canada overall. "
Across Canada:
Vancouver and Toronto now both show strong evidence of problematic conditions. The level of evidence of problematic conditions for Vancouver has been raised to strong from moderate where we detect a combination of overheating, price acceleration, and overvaluation. The evidence for Toronto is unchanged with the strong evidence of problematic market conditions driven by price acceleration and overvaluation. Hamilton is also now showing strong evidence of overvaluation, resulting in the overall assessment of problematic conditions for Hamilton being raised to moderate;
Weak energy prices continue to affect housing markets in oil-dependent provinces. Despite house-price adjustments, the overall assessments for Calgary, Saskatoon, and Regina continue to show strong evidence of problematic market conditions because of overbuilding and the impact of weak fundamentals on the assessment of overvaluation;
Elsewhere, the analytical framework detects moderate evidence of problematic conditions in Winnipeg, Montréal, and Québec. The evidence of problematic conditions for Ottawa was lowered from moderate to weak. The overall level of evidence for problematic conditions in the Maritimes remains weak.
Note 1: Colour codes indicate the level of evidence of problematic conditions. The HMA reflects a comprehensive framework that not only tests for the presence or incidence of signals of potentially problematic conditions, but also considers the intensity of signals (that is, how far the indicator is from its historical average) and the persistence of signals over time. Generally, low intensity and persistence are associated with a lower potential of upcoming problematic conditions. As the number of persistent signals increases, the evidence of a problematic condition developing increases.
Note 2: Results at the CMA level are not segmented by housing type or neighbourhood. They represent an assessment of the entire CMA. However, specific CMA reports provide further detailed analysis of these markets.
Note 3: The colour scale extends to red only for those factors that have multiple indicators signaling significant incidence, intensity and persistence of potentially problematic conditions. As a result, only overvaluation and overbuilding can receive a red rating, since they are assessed using more than one indicator.
Note 4: To ensure the framework is as current as possible, on a regular basis, we undertake a model selection process whereby our house price models for overvaluation are tested for statistical significance at the national and CMA level. The result of this process may change the number of indicators of a problematic condition from the previous assessment.