HOUSING CONSTRUCTION TAKES A HIT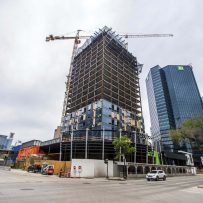 COVID-19 has stalled just about every element of the economy and the housing construction component is no exception.
And according to the Canada Mortgage and Housing Corporation, housing starts slowed down more significantly in Manitoba that just about any other province in the country.
But there is a general consensus among industry officials in Winnipeg that the severe decline in housing starts — a 47 per cent drop from April to May and 58 per cent comparing May 2020 to May 2019 — has a lot to do with something that was occurring before the coronavirus pandemic.
According to the CMHC, seasonally adjusted annual rate of housing starts in May were 3,335 in Manitoba compared to 6,320 in April. From April to May, the 47 per cent drop in starts in Manitoba was the largest in the country. Only Newfoundland and Labrador had a greater drop from May 2019 to May 2020 than Manitoba's 58 per cent decline.
An overbuilt condo sector is what's really driving the numbers down, the experts say. Lanny McInnes, CEO of Manitoba Home Builders Association said there was a 69 per cent decline in the number of multi-family starts this May compared to last May.
"That's because there was a significant number of rental apartment (and condo development) starts last year," he said. "From a market perspective there was not going to be a similar number of multi-family starts this year."
Year to date, McInnes said single-family housing starts in Winnipeg are only down seven per cent from last year. All other types of housing are down by 21 per cent through the end of May.
Heather Bowyer, CMHC's senior market analyst for Manitoba, also blamed the large percentage decline in Manitoba on the fact that the market has been dealing with an overbuilt condo market for some time.
She makes a distinction between rental housing and condo developments. She said last year there was a pretty strong level of multi-family rental starts and in the year to date, rental starts are only down four per cent, whereas condo starts are down almost 40 per cent.
"We are seeing quite a difference between the type of multi-family units in Winnipeg and the impact COVID is having," she said. "But one caveat to this is that condos have seen a bit of a downward trend in new construction over the last little while anyway. We have seen a lot of overbuilding in that market segment."
The challenges in the condo market are seen on the resale side as well, where prices have barely been able to hold their ground. In its recent report on home sales in Winnipeg, the Winnipeg Realtors Association noted overall sales during the last week in May surpassed sales during the same week last year.
But according to Peter Squire, vice-president of external relations and market intelligence at Winnipeg Realtors, there was an excess of condos on the market even going into 2020. Whereas some popular neighbourhoods in Winnipeg did not have enough detached single-family inventory for sale in May, there were plenty of condos for sale across the city.
"COVID-19 has exacerbated some of the challenges of condos versus single family dwellings," he said.
The construction industry has had to impose physical-distancing protocols like everyone else, but it was deemed an essential service in Manitoba and has not had to shut down.
Having said that, Ron Hambley, president of the Winnipeg Construction Association, said there was a general construction slowdown at the end of March. As contractors have become more comfortable with the new guidelines, things are on track now.
"Everything that was underway is still being worked on," he said. "There is still lots of multi-family projects under construction but we are not seeing any new (multi-family) starts."
CMHC records a project as having started when the foundation has been built.
McInnes believes another factor that may be at play in the severe drop in Manitoba numbers could be a gap between permits that have been issued and the actual start of construction.
"Single-family detached starts are down more than what we have seen on the permit numbers," he said. "We think it might be just a lag in construction starting."
Across the country the annual pace of housing starts, excluding Quebec, fell 20.4 per cent in May compared with April.
"While this result may surprise some, we note that homebuilding is in part a function of past housing demand, which has been strong," Sondhi wrote in a report.
"In addition, most provinces didn't shut down their construction sectors in response to the outbreak."
Sondhi noted that it is fair to question how long this resilience will hold up.
Story by: Winnipeg Free Press